Last updated on March 1st, 2020 at 07:41 pm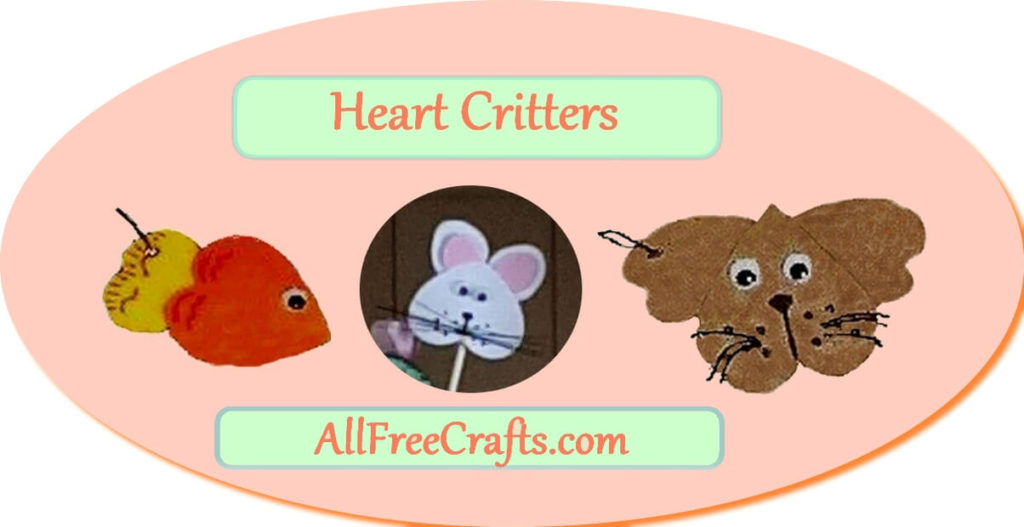 Craft Foam Heart Critters:
Kitten, Puppy or Tropical Fish
by Twila Lenoir
These heart shaped critters have lots of uses. They're a natural for Valentine's Day, but also make great zipper pulls, fridge magnets or decorations for picture frames or mirrors. Because they are made from thin foam heart shapes, each critter may be added to a greeting card for someone special.
To Make Three Heart-Shaped Foam Animals
You Will Need:
black yarn
permanent black marker
scissors
glue
Puppy, Kitten or Fish Instructions: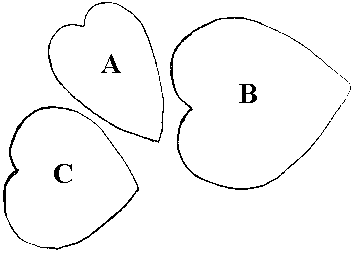 1. Print the heart shaped pattern, shown at right, which includes three hearts of different sizes, labelled A, B and C.
2. Puppy: Cut two "A" hearts and one "B" heart. Place the "B" heart upside down and glue the two "A" hearts in place on the back, placing them as shown in the photo. These are the puppy's ears.
Turn the puppy over and glue on the goggle eyes. With a black marker, draw on a nose, with a line going down to the ident of the heart. Add small dots on either side for the whiskers. Glue on a few strands of yarn or thread as longer whiskers.
3. Kitten: You will need one "B" heart and two "C" hearts for the kitten. Follow the same directions as for the dog, using the "C" hearts for the kittens ears and looking at the photo for placement. Add a small triangle of pink fun foam, felt or paper to each of the ears.
4. Fish: Use one "B" heart and one "C" heart for the fish. Glue the "C" heart on top of the "B" heart as the tail. Add a plastic eye and, if you like, draw wiggly lines on the tail or scales on the fish body with a magic marker.
For All Critters:

Finally, if using the critter as a zipper pull, punch a hole in one ear or on the tail of the fish. Add a small wire key ring which you can also attach to the end of a zipper.
If you like this craft, you may also like to see how to make a Fun Foam Ladybug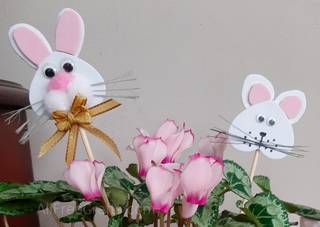 Variations:
Consider making these heart-shaped critters from felt or construction paper. Also check out our newest creation, the Heart-Shaped Foam Bunny for Easter, shown here with one of the kitten critters.
See if you can create other creatures from heart shapes – perhaps a bird, using hearts as the face and body with the smaller hearts as wings, or why not cut a heart in half to make two fun foam mice?