Last updated on June 16th, 2016 at 11:24 pm
Make a cute, fluffy caterpillar from pompoms with this easy kid's craft project.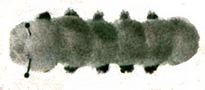 Supplies:
6 pompoms; 1-1/2 inch size (or your choice of size and color)
1 Chenille Stem
Tacky glue (low temp – hot glue for big kids)
2 floral stamens or a toothpick (you'll need craft paint as well, if you choose to use a toothpick)
What You Do: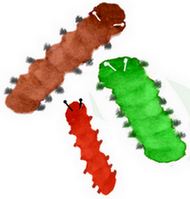 Pin
These are very easy and quick to make. Glue together six pompoms. You can use any size you like, but I used 1-1/2 inch pompoms for mine.

Cut your chenille stem into small pieces (ten pieces in total) and glue the pieces into the side of each pompom, except for the the back pompom.
If you don't have any floral stamens, you can use a toothpick. Break the toothpick into two pieces and paint it white. Allow the paint to dry and dip the end into white paint to create a little ball of paint at the end. Allow the paint to dry and re-dip into white paint again, if necessary.
If you have two seed beads, you could glue these on, instead of paint, to make the ends of the antenna.
Glue the antenna onto the head of the caterpillar, as shown in photo.
You can make these with multi-coloured pompoms, of various sizes or all the same.
Copyright © 1999-2014
Susan Spatone All rights reserved.