Last updated on September 9th, 2015 at 01:52 am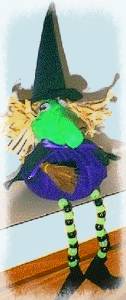 A plastic gourd pick gives a face to this Halloween gourd witch – warts and all!
by Jane Lake and Twila Lenoir
What you will need:
Plastic Gourd from a fall pick
Raffia
Goggle eyes
Thin purple ribbon
Black and purple felt
Handful of stuffing
pony beads
Gourd Witch Pattern (Print and Enlarge)
Smallest broom
Spring green acrylic paint
Matte sealer
[xyz-ihs snippet="AFCembed"]
Instructions: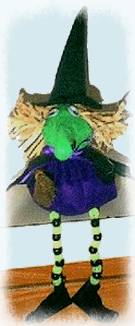 First, paint your gourd with green paint; I used spring green. My gourd had two bumps at the end so I painted them black for warts. Set aside to dry. When dry, spray or brush on a sealer. I used a matte finish.
Print out the pattern and trace onto your felt. Remember you will have to enlarge the pattern before you print it out, 25 to 30 percent. Trace the hat, cape, body and shoes onto black felt. Trace the hands on purple. You can also do the cape in purple too.
Take the circle (body) and with some strong thread run a basting stitch around the rim. When you get to the other side where the knot is, pull the thread until you have a small opening, and fill with fiberfill stuffing, so that it is nice and plump. Pull the thread until the opening is almost closed and knot off.
With some more thread, make a large knot and then string a small bead at the end, followed by the pony beads, whatever you have, to make a leg. I used glow in the dark and black pony beads; that's what I had, use what you have. Now before you tie to the body, pull the beads up so that the knotted end is exposed and glue the shoes on the knot – basically you sandwich the knot in between two patterns of the shoe and glue in place.
Let the beads fall back again to the shoe, and sew a knot to the bottom of the body, repeat for the other leg.
Take some raffia and wrap it around your hand about 4 to 6 times, take it off your hands and with some string or wire tie it in the middle of the raffia. Cut the loops at each end. Glue this to the top of your gourd and glue down a little on the sides of the gourd and the back. Glue on the goggle eyes.
Glue the head onto the body and glue the cape on. Glue the straw broom to the side and then glue the one hand on top of the broom. Glue on the other hand, glove.
For the hat, cut out the small circle and take the hat pattern and glue to a point like you are making a cone shape. Glue the cone to the circle and glue on top of the head.
Lastly, glue a purple bow under her chin.