Last updated on September 7th, 2015 at 11:40 pm
by Jane Lake
Here's an interesting twist for breakfast on Halloween morning, or perhaps a mid-afternoon snack – jack o' lantern toast or English muffins, or "iced" pumpkin crackers. Not a traditional sweet candy treat – but appealing and tasty nevertheless!
We also have Halloween snack recipes for ghost toast, witch's punch, marshmallow spiders, Jack O'Lantern Fruit Salad, jello pond sludge and more.
Halloween Toast or English Muffins
Ideally, you need a pumpkin shaped cookie cutter to cut the toast, although I think you could get by using a drinking glass as the cutter, as my grandmother used to do when making biscuits.
Toast slices of bread or a split English muffin as you normally would, let cool for a minute, then cut into pumpkin shapes or circles. Spread with processed cheese (I used Cheese Whiz Light) or cream cheese colored with orange food coloring. Make the eyes with slices of stuffed green olives, raisins, a slice of marachino cherry or some other small, round tidbit.
I drew the mouth with Food Colour Markers
but you could also make a mouth from more raisins, a slice of curved celery or a carrot curl.
__________
Jack O'Lantern Crackers
"Ice" any round crackers with processed cheese spread, and add a small piece of celery leaf, parsley, watercress or even a shred of lettuce as the stalk. Make the face with edible food writers, or as suggested for toast.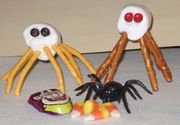 Marshmallow Spiders
These are easy enough for children to assemble themselves; you'll need a package of large marshmallows, pretzel sticks or chow mein noodles and mini M & M's or raisins. Have the kids push four pretzel sticks or noodles into each side of the marshmallow as the spider's legs. Use another stick to poke two eye holes in the marshmallow; insert M&M's or raisins into place as the spider's eyes.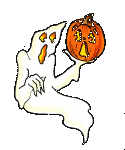 Ghost Toast
Lightly toast white bread, spread with butter or margarine then let the kids sprinkle it with ghost dust (icing sugar). Or cut toast with ghost shaped cookie cutter, spread with cream cheese and add raisin eyes.
Halloween "Handy" Snacks
Fill a clear plastic food handler's glove by placing one or two pieces of candy corn or raspberry shaped candy in the tip of each finger, then filling the remainder of the glove with popcorn or cereal. Tie with yarn or raffia.

Spooky Witches Punch
Fill a clean rubber glove with orange juice, bend the fingers slightly and place in the freezer until solid. Mix up your favorite punch and add green food coloring. Serve the punch in a plastic witches cauldron or pumpkin; cut the rubber glove away from the frozen hand then float it in the punch.
Jack O'Lantern Fruit Salad or Pudding
Slice off the top of an orange, much as you would when making a pumpkin jack o'lantern. Remove the orange innards and chop the orange segments into bite sized pieces. Mix with fruit cocktail or your favorite chopped, fresh or canned fruit. You can now refill the orange with the fruit salad or set the fruit salad aside for later and fill the orange with vanilla, caramel or vanilla pudding. If desired, draw a traditional jack o'lantern face with food writer markers, or even a regular black marker (you won't be eating the orange skin). Serve in a shallow bowl with a spoon.
Pond Sludge
Fill clear plastic glasses with green jello. When the jello has almost set, add gummy worms, making sure a few of them are escaping over the rim of the glass. If desired, when the jelly has set, add a dollop of pond mud (chocolate pudding).
For more great Halloween recipes, see Kraft's Favorite Halloween Foods