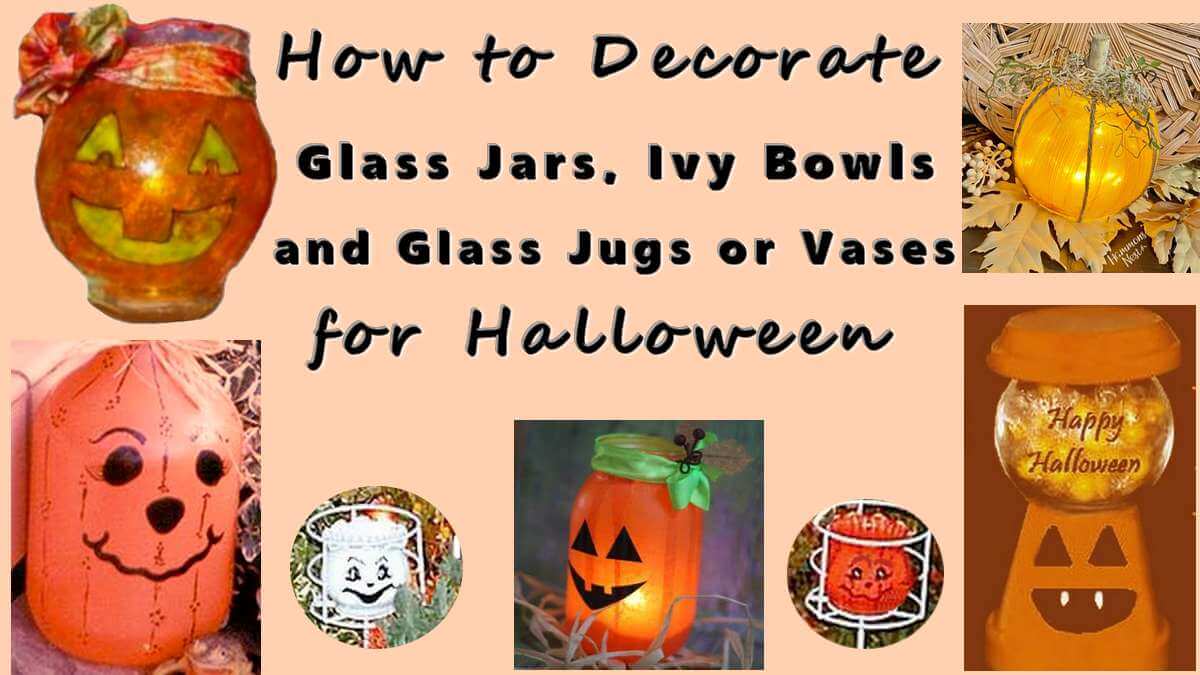 Glass or plastic ivy bowls are ideal for Halloween decorating, along with large glass jars, vases, bubble bowls, goldfish bowls and other glass or transparent containers. These globe-shaped glass or plastic objects are custom-made for reuse at Halloween.
Maybe you already have a glass jar or an ivy bowl stashed somewhere because it was just too nice to throw away. Perfect. Today, you found its next purpose!
For convenience, you can also buy ivy bowls online at Amazon.
Please remember that plastic containers are unsuitable for use with real candles but flickering battery powered candles, tea lights or fairy lights should be okay; just read the directions to be sure.
AllFreeCrafts is reader supported! Many craft supplies are available at thrift stores and I actively support recycling so try that first! However, if you purchase from an affiliate link on this site, I do earn a small commission at no extra cost to you. For instance, as an Amazon associate, I earn from qualifying purchases. This has helped me keep AllFreeCrafts.com up and running since 2002. Thank you!
Halloween Ivy Bowl Pumpkins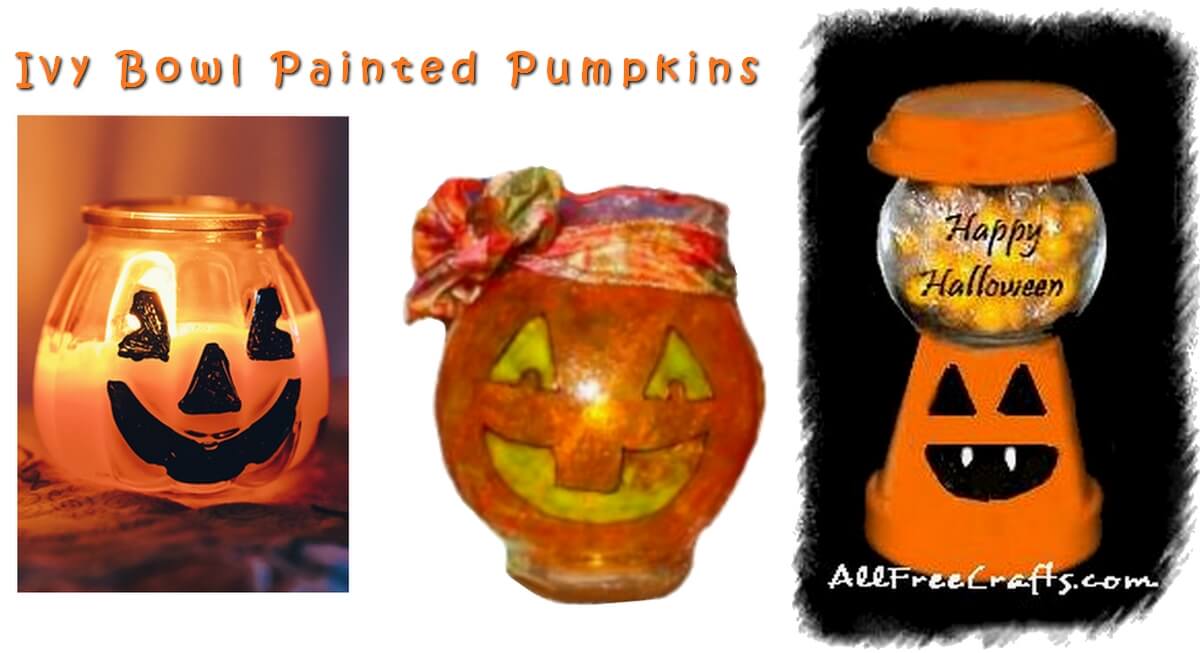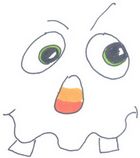 Pumpkin Face Ivy Bowl Candle: Refer to the above photo, far left. So easy: just adorn an ivy bowl candle with a jack o'lantern face using markers or paint.
Glowing Face Pumpkin Candle: For a glowing face, use leading paint to outline your pumpkin features before painting an ivy bowl orange. A votive candle or tea light placed inside illuminates the features that you create.
To make the Faux Gumball or Candy Machine Pumpkin, you'll start with a clay pot and saucer, in addition to a glass ivy bowl filled with wrapped Halloween candy.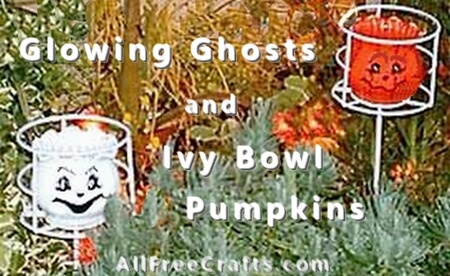 4. Glowing Ghosts and Ivy Bowl Pumpkins
So easy, you don't need a page of instructions. Paint an ivy bowl with white for a ghost, orange for a pumpkin. Use a black marker or paint to add facial features then light it up with a votive or tea candle.
Variations on a Theme: Gallon Jugs and Brandy Glasses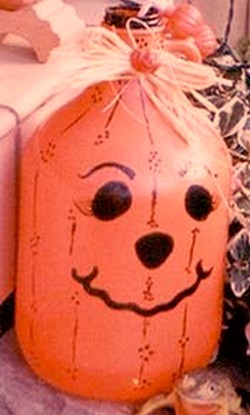 5. One Gallon Jar Illuminated Pumpkin
This craft makes great use of larger one-gallon glass jars.
For Halloween, add pumpkin face features.
For an illuminated Fall decoration for your porch, simply use raffia to tie fall leaves to the stem of the jar.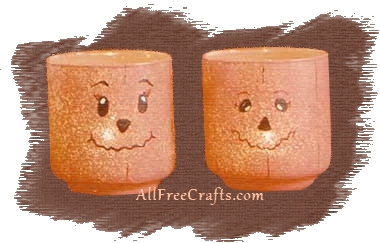 Sponge paint a pumpkin onto a mason jar, old candle jar or a drinking glass.
---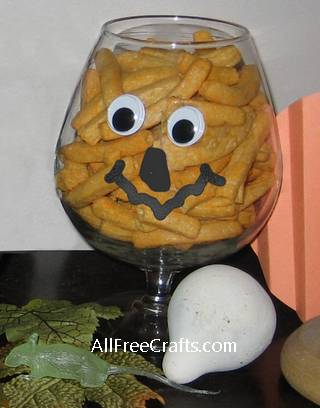 6. Brandy Snifter Pumpkin Decoration
Here's an example of a pumpkin-colored snack jar made from a brandy snifter.
I think that an ivy bowl or fish bowl would also work beautifully for this.
You only need a glass container, plastic eyes, a black marker and something to fill the container.
That's it, folks.

---
---
Faves from Around the Net
The following projects aren't available on my site, but I wish they were. Kudos to the creators of these wonderful Halloween recycling projects using glass jars, bottles and bowls.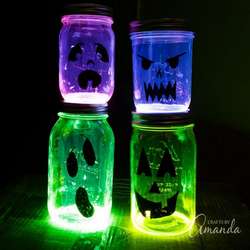 Use the contents from glow sticks to make Jack O'Lantern Jars.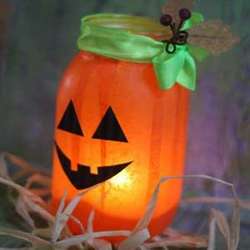 Glue tissue paper inside mason jar pumpkins then add a flameless tea light candle.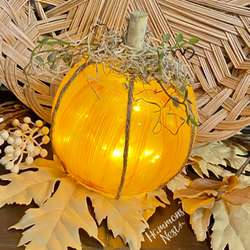 Make a Glass Bowl Luminary with battery powered fairy lights.