Last updated on October 11th, 2015 at 12:33 am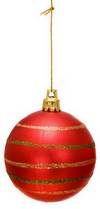 Christmas Ornament Bowl Centerpiece
Add the glow of Christmas lights to a bowl of glass Christmas ornaments for a designer decorating look in minutes!
Material:
Frosted Glass Bowl
Glass ornaments
Mini Light set (quantity will depend of bowl size)
How to:
In minutes you can have this great little decorative bowl. The photo isn't great, but these bowls of ornaments look simultaneously casual, elegant, and quite simply, magnificent.
I placed a set of lights at the the bottom of the bowl, added ornaments, plugged in the lights and that was it!
So easy, but such an evocative, eye-catching display for Christmas!
[xyz-ihs snippet="AFCembed"]
Tip:
»Use a strand of battery-powered lights for an arrangement that you wish to place as a table centerpiece, or where no power source is readily available.
Copyright © 1999-2015 Susan Spatone All rights reserved. Published with permission from CraftAtHome.com