Last updated on February 7th, 2020 at 12:50 pm
Cake Mix in a Jar Recipe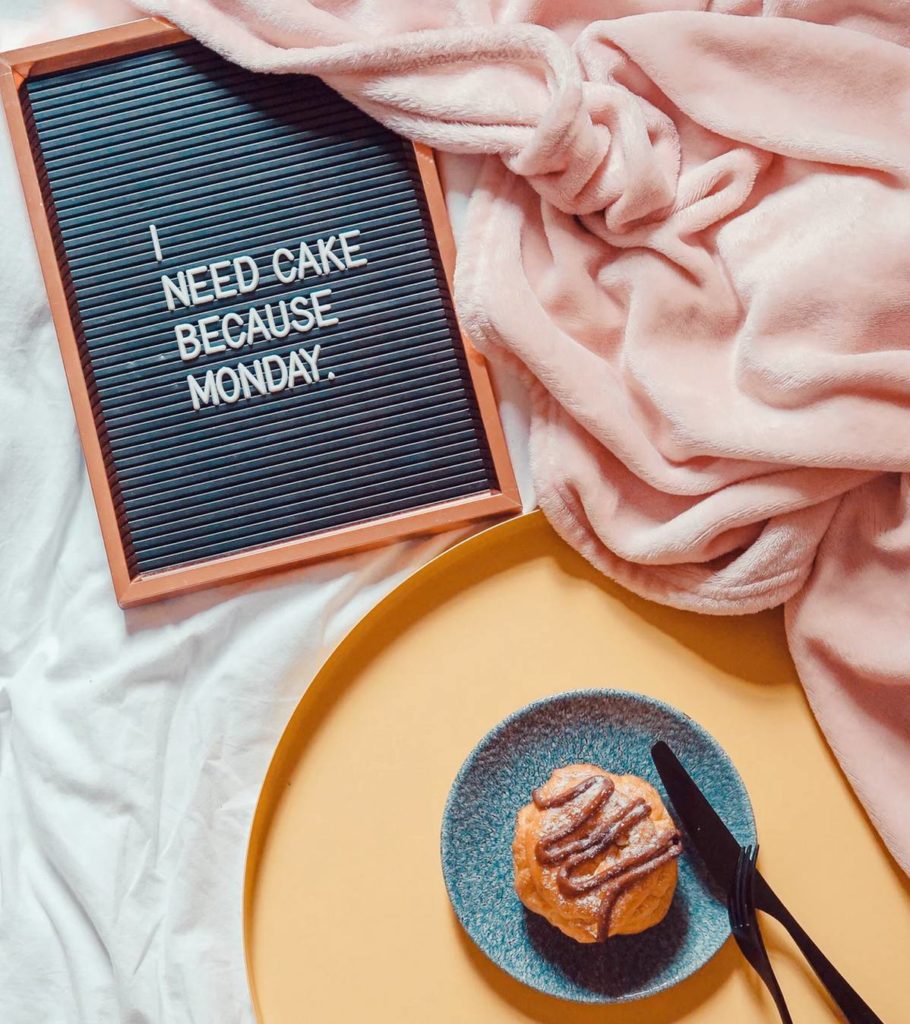 with free Printable Gift Tag
by Jane Lake
This is a nice gift in a jar to give at any time, but makes a special going away treat for college students or a welcome gift for a new neighbour.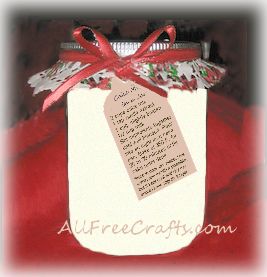 It's a basic white cake mix, plain and simple, but also very welcome for those "Cake Because Monday" times when you just need a pick-me-up!
Cake Mix in a Jar Recipe
Ingredients:
6 c. flour
3 tbsp baking powder
1-1/2 cups shortening
4 cups sugar
2 tsp salt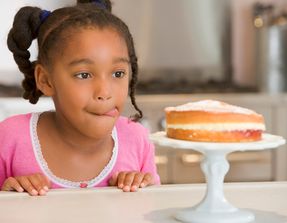 Mixing Instructions:
In a large bowl combine the flour, sugar, baking powder and salt.
Use a pastry blender or two knives to cut in the shortening until mixture resembles cornmeal.
Pack cake mix in airtight jars using at least two cups of mix per jar. Store in a cool, dry place.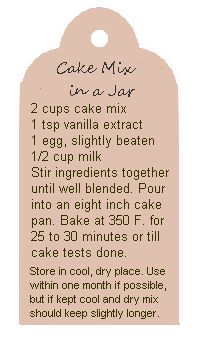 If possible, use within one month, but if the mix is kept cool and dry it should keep slightly longer.
Free Printable Gift Tag
Print and cut out the gift tag.
Punch a hole in the top of the tag and attach it to the jar with a piece of yarn or ribbon.
Baking Instructions for 8 Inch Cake: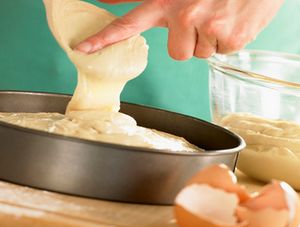 You will need:
2 c. cake mix
1 tsp. vanilla
1 egg, slightly beaten
1/2 c. milk
Empty 2 cups of cake mix from the jar into a medium mixing bowl.
Add remaining ingredients and stir together until well blended.
Pour into an eight inch cake pan. Bake at 350 degrees F. for 25 to 30 minutes or until cake tests done.
Two Layer Cake
For a two-layer cake or slab cake, double the recipe and use two eight inch cake pans or a 9 x 13″ pan. Bake at 350 degrees F. for 25 to 30 minutes or until cake tests done.