Last updated on April 4th, 2018 at 12:00 am
How to use common garden vines found around your home or neighbourhood to make a homemade vine wreath.
by Jane Lake
Mid-summer to late fall is the season to harvest vines to make a vine wreath or two.
Although you can buy grapevine wreaths quite readily, if you have access to your own vines, why not try making your own? Grapevines, of course, are ideal for this craft project, but the picture shown on the left is made from fresh Virginia Creeper vine and is currently in the process of being dried. I've also made vine wreaths from euonymus, silverlace and honeysuckle vines, and I'm sure that there are many other plant varieties that would work equally well.
Caution: Virginia Creeper is an aggressive vine that grows readily in gardens, over walls, near rivers, roadsides, and fields. It is grown as an ornamental plant, but is also regarded as an invasive weed. This is good news for vine makers, because a single vigorous Virginia Creeper plant will provide literally yards of strong vines which are perfect for weaving into wreaths. It is identified by its leaves, which has five leaflets radiating out like the fingers of a hand. The leaves turn red in the fall. Virginia Creeper is sometimes mistaken for poison ivy, which has three leaves, and often the two plants can be found growing alongside each other — so make sure you know which plant is which!
How to:
The first step, of course, is harvesting the vines. Grapevines should be cut anytime after the grapes have been picked, up to first frost. I've found that Virginia Creeper is usually vigorous enough to harvest in mid-summer in my area (left too long and it will kill the pine trees that it attempts to cover).
You will want nice long lengths of vine to work with – anything from 3 feet to 10 feet is a workable length.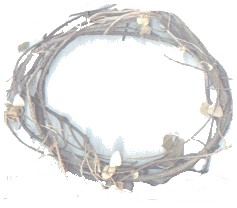 PinTrim off the leaves. However, on a small leafed vine like the euonymus pictured on the right, you might want to let some leaves dry on the vine to form the first decorations. I usually leave the curly clinging tendrils in place, because they make attractive corkscrew shapes when dried.
If you are unable to work with the vines right away, coil them in a large bowl or laundry basket and cover with water overnight so they remain pliable and easy to weave.
Begin at the thicker end of one vine length, and coil this first round of vine in a circle slightly smaller than the size you want. I usually begin with a coil of two or three rounds before weaving. You will build on this set of rounds, and the wreath will grow as you weave it.
Now begin weaving, pulling the vine in and out of the circle and working you way around the wreath until you come to the end of the vine (see photo above for detail). Tuck this end in place between the coils.
With the second length of vine, start by tucking the thicker end in at a different spot than the place you began the first vine. You may want to coil more rounds before weaving again, or you can weave in and out of the circle right away; it partly depends on how much vine you have, and how thick you want the wreath.
Keep adding vines in this way until the wreath is the size and thickness that you want. It is up to you whether you weave the vines tightly (as in the Virginia creeper picture above) or loosely (like the euonymus photo). A loose wreath is less formal and allows room to weave in ribbons.
Attach a wire or string at the back for hanging and decorate your vine wreath as desired.
Some suggestions for decoration:
Here's how I decorated the euonymus vine shown in this project: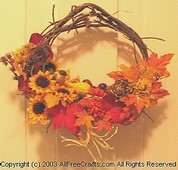 PinAutumn Wreath.
Other Vine Decoration Ideas:
Spray paint (once the wreath is dry), in gold, silver or seasonal colored paint.  Add dried or silk flowers, pine cones, Christmas ornaments, small birds, butterflies or other miniatures, wrapped candies or candy canes, dried apple or orange slices, cookie cutters, wooden shapes, cinnamon sticks, eucalyptus branches, plain or colored raffia, miniature gift boxes, holly leaves and berries, mistletoe, dried autumn leaves, pine branches, cedar branches.
Also consider making a fresh floral wreath by hiding tiny glass water tubes in the vine and filling with sprays of fresh flowers.