Last updated on September 15th, 2015 at 10:07 pm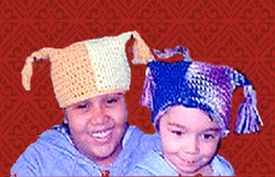 PinCrocheted Crazy Hats for Children
Designed by Twila Lenoir
I found this free pattern at the store and changed it around to fit better. The style really appeals to kids and teens! These are two of my three munchkins – Mya and Timothy.
What You Need:
Scrap 4 ply yarn. I used red heart super saver.
(K) crochet hook
Cardboard
Ready:
[xyz-ihs snippet="AFCembed"]
Basic square  
Ch 16
Rw 1) sc in 2nd ch from hook and in each ch across- 15 sc.
Rw 2) ch 1, sc in each stitch across- 15 sc. Repeat row 2 until you have 24 rows. Fasten off, tuck in tails.
Make 4 squares
Take 2 squares, front side facing each other and whip stitch 1 side of the length together. Do the same with the other 2 squares. Open both of the 2 squares you just whipped together, and with front sides facing each other, whip stitch, from right to left, leaving an opening for the head. Fasten off, tuck in tails.
When you decide which is going to be the front and the back, starting in seam, attach yarn, and ch 1, sc around, slip st in first ch. Slip stitch a row around and fasten off to sl st. Tuck in ends.

Tassels – make two.
Take a piece of card board measuring 5 x 5-1/2. Fold the length in half .Wrap your yarn around the card board, not on the fold, until you have the thickness you want. About 10 to 12 times. Slip a strand of yarn under the yarn and pull the strand to the top of the card board and tie a knot. At the other end of the card board, take your scissors, and slip it between the folded card board and cut the looped yarn across. Take off card board. Smooth out, take another piece of yarn, and take both ends and tie a knot around the neck where you tied the first knot and wrap around several times, tie a knot. Attach the tassels to each corner and slip the 2 ends to the inside and hide ends. Enjoy!
User a J hook for a 2 to 3 year old.