Last updated on March 7th, 2018 at 10:15 pm
Make this pretty ponytail tube from scraps of yarn in your favourite colors.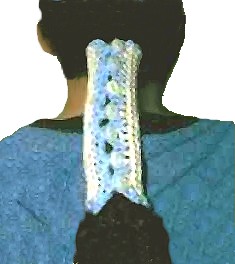 PinHere's a welcome gift for anyone who likes to wear their hair in a ponytail. It makes an elegant alternative to scrunchies and is quick and easy to crochet, using a popcorn stitch to fasten.
by Twila Lenoir
What you will need:
Lily Sugar 'n Cream 4-ply worsted weight 100% cotton. (Or your choice of yarn color and brand)
( G ) crochet hook
seven 1/4 inch buttons
Ready:
Ch 24
Rw 1- sc in second ch from hook, and in the next 22 chs. Ch 1 and turn.
Rw 2 -13- sc across. ch 1 and turn (23 scs plus 1 ch 1 (24) ) fasten off at end of row 13.
Rw 14- attach another color with a sc in any corner. Sc in every side rw. sc in first 2 scs, ch 2 sc in the next 3 chs, ch 2 sc in the next 3 scs, (ch 2, 3 sc to last 3 chs, sc in last 3 scs. Sc in every side rows, sc in next 3 beginning ch, (4 sc popcorn stitch in the next ch, sc in the next 2 beginning chs )to end. Sc in last 2 chs fasten off.
Designer's Note:
The popcorn stitch may be enough to button for thin hair but my daughter's hair is thick and curly, so on every popcorn, I sewed on a button.
Enjoy! (I already have a waiting list for Mya's friends.)