Last updated on September 21st, 2022 at 11:43 pm
Here's a tomato cage Christmas tree that's easily made from two tomato cages and three 10-to-15 foot Christmas garlands. Apart from wire, or twist ties, to fasten the cages together and secure the garlands, that's all you need apart from ornament hangers and your choice of decorations.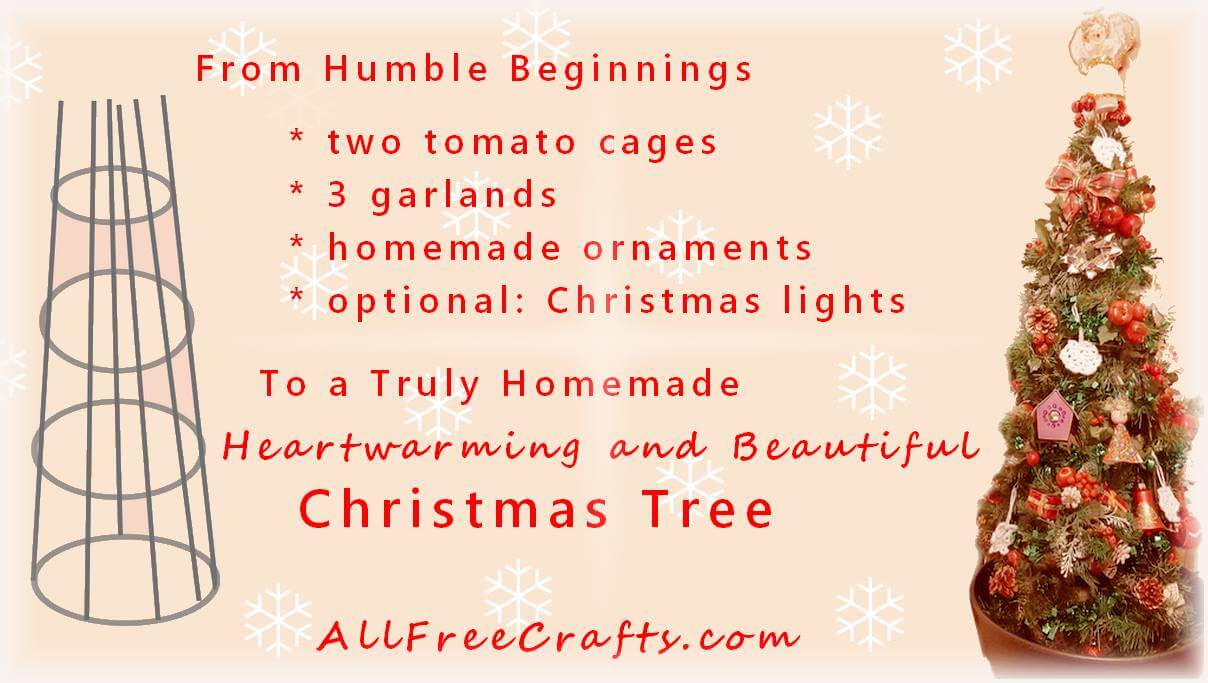 My tomato cage Christmas tree was filled out with a collection of small evergreen picks and homemade ornaments. Yours may feature a theme from your stash of old Christmas decorations.
Time: Approximately 1 hour assembly time. Difficulty: Easy
How to Assemble a Tomato Cage Christmas Tree
Turn one tomato cage upside down and slide the second tomato cage over the top of the first one.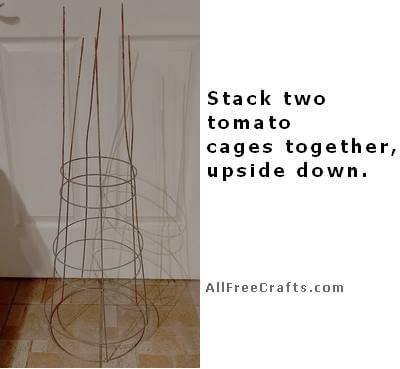 Make sure the vertical supports for the first cage do not align with those of the second cage. Set all the upright supports apart from each other for strength and stability.
Wire the Two Tomato Cages Together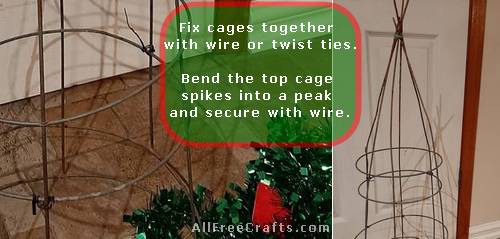 Cut lengths of craft wire, or just use twist ties, and begin wiring the two cages together. Secure the cages, with short pieces of wire twisted together, in three or four different spots on the base.
Add more wire connectors to the upper levels until both cages are firmly secured and move as one piece when you pick them up.

If you have wire left over after twisting it around the cage bars, just leave the ends sticking out. These wire pieces help secure the garlands in the next step. Bend the top cage spikes into a peak, as shown above, and secure with wire.
Add Garlands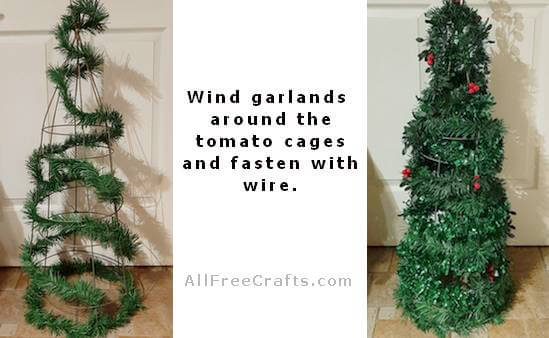 Beginning at the bottom, secure a wired evergreen garland to one of the uprights and begin winding it around the bottom coil of the cage ending at the top. Use any wire ends left over from the cage assembly to fasten the garland in place. Add more wire or twist ties, as needed, until the garland is nice and

Repeat with two more garlands, winding them around the cage wires and filling spaces as you proceed. Aim for a fairly full greenery effect but don't worry if you have some gaps. These are great spots for ornaments.
I used two different pine garlands, both 15′ long, and finished off with an 8′ foot long glittering green garland with berries.
Decorate Your Tomato Cage Christmas Tree
Get creative with your tree decorating! You'll find lots of spaces ready for decorations which can be hung normally from ornament hangers either from the tomato cage base or from the secured garlands.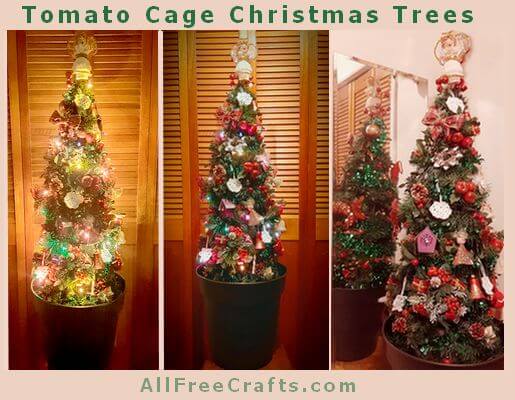 I added a string of Christmas lights after most of the decorations were in place; next time, I think that I'll put the lights on first. I placed my finished Christmas tree into a large, black plastic pot with bricks placed inside for weight. But I don't really need a pot or planter as the tree also looks fine on the floor.
Although these are small scale Christmas trees, the creative decorating possibilities are endless.
A monochromatic theme, with the Christmas lights and ornaments in various shades of one color, would look amazing.
I went with a traditional look of predominantly red and green colors interspersed with many different homemade Christmas ornaments. But why not try a tree decorated entirely with angels, dolls, elves or any other symbol with special meaning for you?
More Tomato Cage Christmas Trees
Check out these lovely tomato cage Christmas trees for more inspiration. (You will be leaving AllFreeCrafts, but please come back soon!)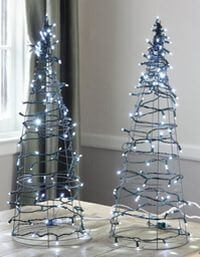 Led lights, either electric or battery powered, plus tomato cages.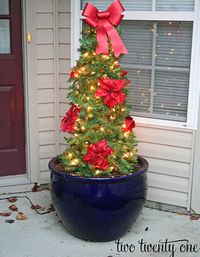 Outside planter tree with garland, lights, poinsettias and ribbon.
Minimalist, rustic charm from HGTV.