Last updated on November 9th, 2015 at 11:13 pm
How to make simple circles of lace to decorate your Christmas tree.
Lovely in white, as shown here – but you can also use lace in Christmas colors, either plain or with metallic highlights, as another variation.
Material:
Lace of choice [flat, non gathered lace is best]
Wire [gold or silver is best]
Needle nose pliers
Hot glue gun and sticks
Ribbon Rose or other ornamental embellishment
[xyz-ihs snippet="AFCembed"]Craft Instructions:
These make wonderful ornaments for your Christmas Tree.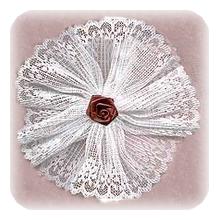 Pin
Amount of lace required will depend on the fullness desired and the weight of the lace. I used about 15 inches for one and 36 inches for the other.
Feed your lace onto a piece of wire as close to the bottom edge of your lace as possible, while keeping the lace secure to the wire. You can either feed the wire through the lace or feed it back and forth, depending on the chosen lace.
Pull the lace tight to form a ring, twist the wire ends together to secure and cut any excess wire.
Glue a small ribbon or porcelain rose to the centre.
You can add dried florals, small ornaments or other objects to the center of these.
If you like this craft, you may also like to make Lace Snowflakes, which are made in much the same way.
Copyright © 1999-2015 Susan Spatone All rights reserved.