Last updated on December 21st, 2014 at 12:26 am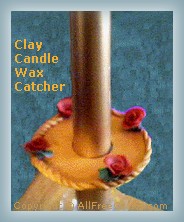 PinSculpey Clay Candle Wax Catchers
by Twila Lenoir
Make pretty candle wax catchers from sculpey clay – not only do they dress up a plain candle very prettily, they also protect other surfaces from hot drips of wax.
Supplies:
sculpey clay in your choice of colors
½ inch round cookie cutter
a nickle coin (or another coin, just a little larger than the diameter of your candle)
sharp Exacto type craft knife
Instructions:
1. Roll out the clay to 1/8 inch thickness and use the cookie cutter to cut out a 2″ circle.
2. Place a nickel, or similar sized coin, in the center and cut around with a sharp knife. Remove this center piece.
3. Make a long string of clay similir to thin spaghetti; fold in half and twirl the two pieces together to create a braided effect. Attach the braid around the perimeter of the base.
4. See How to Make Hairs Snap Clay Roses for instructions on how to make clay roses. Make three or four roses with leaves (without the metal snaps). Use a toothpick to press each rose into the base and the braid, leaving equal spaces between the roses.
5. Bake the clay wax catcher in a 250° F oven for 20 minutes. Remove from the oven and let cool.
6. To use as a decoration, simply slide the wax catcher over a tapered candle. Leave in place when the candle is lit to catch any drips of wax.