Last updated on May 5th, 2016 at 11:45 pm
This little homemade garden party paper fan may be a little old-fashioned, but it's certainly pretty and practical as well. Give them out as small favors for guests to your summer garden.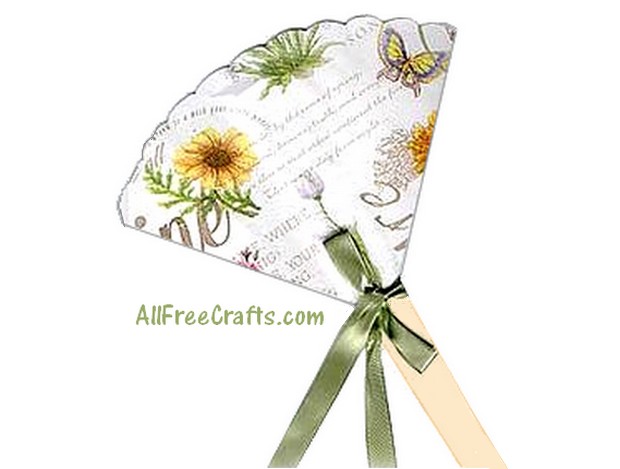 Pin
Craft Supplies:
Paint stir stick or large craft stick
Heavy weight card stock paper
White craft glue (clear drying)
Ribbon
Gift wrap, tissue paper, clippings etc.
Metallic Pen
Paper Fan Instructions:
Trace the Printed Garden Fan Template onto heavy weight card stock. You will need two pieces of the template pattern cut from card stock; one for each side of the fan.
Glue your choice of tissue paper or gift wrap to one side of the card stock, pressing out any bubbles or wrinkles. Allow the glue to dry completely. Repeat for the second template piece.
If desired, cut the paint stick to a suitable length. I made mine about 9 inches long. If the stick is a little rough then you may want to sand it smooth before proceeding.
Glue the cut end of the stick in between the two blank sides of card stock, lining it up in the centre and leaving the decorative sides outwards.

Make sure the fan is securely glued together, because you want the ladies at your garden party to be able to fan themselves without the fan coming apart.
Tie a bow around the top of the handle and secure the bow with a little glue. The bow will take a little abuse if these fans are used. Add an inscription on the handle with a paint pen, detailing the event or date or names.
Optionally, you may want to finish the entire fan with a final coat of polyurethane to protect against humidity, etc. This isn't absolutely necessary, but will give your fan a longer life.
Ideas: Paper tablecloth, napkin or other paper party items are great for these fans. They'll match the rest of your decorations too.
Copyright © 1999-2016 Susan Spatone All rights reserved.
Published with permission from CraftAtHome.com.