Last updated on August 21st, 2014 at 12:10 am
This is one of those logical, clever ideas that make you wonder why you never thought of it before. If you own a clothes iron, simply trace around it to make a perfect pattern for fabric towel toppers.
by Twila Lenoir
Here are instructions to make a kitchen towel hanger from fabric. The fabric required is small, so you can put those fabric scraps left over from other projects to good use!
In this home sewing project, you will use your iron both to press the fabric — and to make the pattern itself!
Pattern Supplies:
Tea towel or hand towel
Scrap fabric to match your towel – about 4″ by 8″
Snap fastener or velcro
Lace and ribbon scrap
iron and ironing board
Pattern Instructions:

__________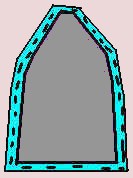 1. This sounds funny – but get out your iron and place it in the middle of your 2 pieces of 4″ x 8″ fabric. Trace around the iron, adding 1 inch all around. Really!
__________
2. With right sides, sew a 1/4″ seam, leaving the bottom of the iron-shaped pattern open.
3. Turn right side out and press.
4. You can either leave the towel at its current length, or cut it as short as you wish.
5. Gather the towel and put the top inch or so inside the fabric hanger. Fold the cut edge of the fabric hanger to the inside, creating a hem of about 1/2 inch.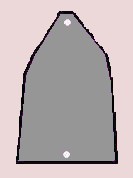 6. Pin, if required, then sew a straight line across the hem of the fabric holder, enclosing the top edge of the towel on the inside.
7. Sew some lace trim at the bottom and some matching ribbon along the lace.
8. Hand stitch the velcro, or the snap fastener, at the top inside of the iron shape and the middle of the front, as shown in the illustration. Fold the fabric hanger over a dowel or towel rod and fasten closed.