Last updated on September 22nd, 2015 at 10:44 pm
How to Prepare Pine Cones for Craft Projects
by Jane Lake
Once you have gathered pine cones in the fall, you'll want to clean and dry them properly to use in crafts.
Here are two methods of preparing your pine cones. The first method offers a way to dry pine cones in an hour or two, using a low-temperature stove oven, while the second involves washing the pine cones clean; both methods will prepare the pine cones for future pine cone craft projects.
[xyz-ihs snippet="AFCembed"]
Oven Baked Pine Cones:
Supplies:
Pine cones
Oven
Parchment paper or foil
Spread pine cones on a parchment paper or foil lined cookie sheet and place in 200°F, or lower temperature oven until all the cones have opened.
Drying will usually take an hour or two, depending on the size of your pine cones.
Don't try to rush the drying; remember, the slower the drying process, the less brittle the pine cones will be.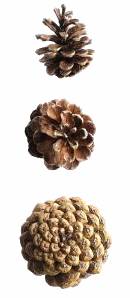 Washed Pine Cones:
Supplies:
Pine cones
Sink
Warm Water
Antibacterial dish soap or household cleaner
You can wash pine cones, rather than baking them in the oven, to clean them up for crafts. These is best done in a large sink, such as a laundry tub.
Plug the sink drain and place the cones on the bottom of the sink. Add a generous amount of antibacterial dish soap, or all-purpose household cleaner, then cover the cones with very warm water. Allow the pine cones to soak for about half an hour, stir them in the water, then rinse well.
If sticky sap remains, repeat both washing and rinsing steps.
Spread washed pine cones on plastic bags or newspaper and allow to air dry completely.