Last updated on November 21st, 2021 at 12:09 am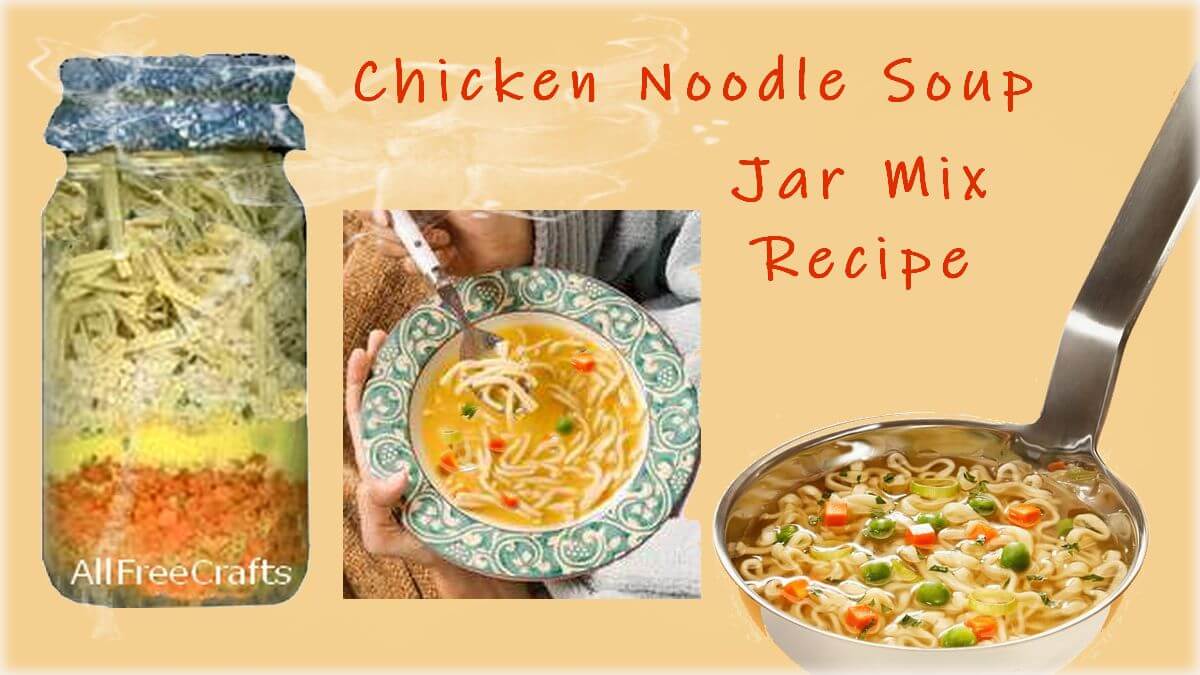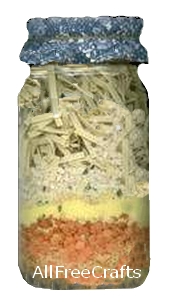 Layered soup in a jar makes a super stand-alone gift any time. But combined in a "theme" gift basket they make an even more impressive gift in a jar presentation. Inexpensive ingredients and quick to assemble!
I made my first layered soup in a jar recipes for my Christmas gift baskets 10 years ago. This recipe for Chicken Noodle Soup, along with a jar of Minestrone Soup, were nestled in with a rice hot pack, crackers, pine cones, a Christmas ornament and homemade kahlua. All this in an orange crate wrapped in cellophane and tied with curling ribbon. Ten years hence and its still a classic gift.
This idea is also a great pick-me-up for a poorly friend. Pack in a crate or basket: a homemade Rice Hot Pack, Chicken Noodle Soup in a Jar, cough drops, Vicks vapor rub, and a good book.
And, of course, this is a great pantry staple soup mix to have on hand for yourself, especially after Thanksgiving or Christmas, or whenever you have leftover chicken or turkey.
AllFreeCrafts is reader supported! Many craft supplies are available at thrift stores and I actively support recycling so try that first! However, if you purchase from an affiliate link on this site, I do earn a small commission at no extra cost to you. For instance, as an Amazon associate, I earn from qualifying purchases. This has helped me keep AllFreeCrafts.com up and running since 2002. Thank you!
Chicken Noodle Soup in a Jar –
Ingredients:
¼ cup of red lentils
2 tbsp. dried minced onion or onion flakes
1½ tablespoons chicken bouillon granules
½ tsp. dried dill weed or dill seed
1/8 tsp each celery seed and garlic powder
approximately 1 cup medium egg noodles
1 bay leaf.
Directions:
In a two-cup jar, layer from bottom in the order listed above, then seal the jar.
Include these instructions:
You can use our free printable to attach the recipe instructions to your jar gift or write your own with the following instructions:
Bring 8 cups of water to boil in large saucepan. Stir in jar of soup mix.
Cover, reduce heat and simmer for 25 minutes.
Discard bay leaf and stir in 1½ cups of frozen corn or mixed vegetables and 2 cups of cooked, diced chicken or turkey.
Simmer for five minutes until vegetables are tender and chicken is heated through.
Editor's Note: Unfortunately, this chicken noodle jar mix recipe has been copied (without my permission) all over the internet and even included, with my photos, in jar mix ebooks for sale on Amazon (again, without my permission). I'm very happy that you are reading this here, free of charge, and thank you for visiting!
If you like this project, please share a link to this page on social media or with your friends and help me defeat internet theft and piracy. Thank you so much. 🙂