Last updated on February 20th, 2023 at 03:43 am
These easy crochet five petal flower patterns remind me of hibiscus. I originally published this pattern as part of the crocheted water bottle carrier which is crocheted in granny squares and embellished with optional flowers.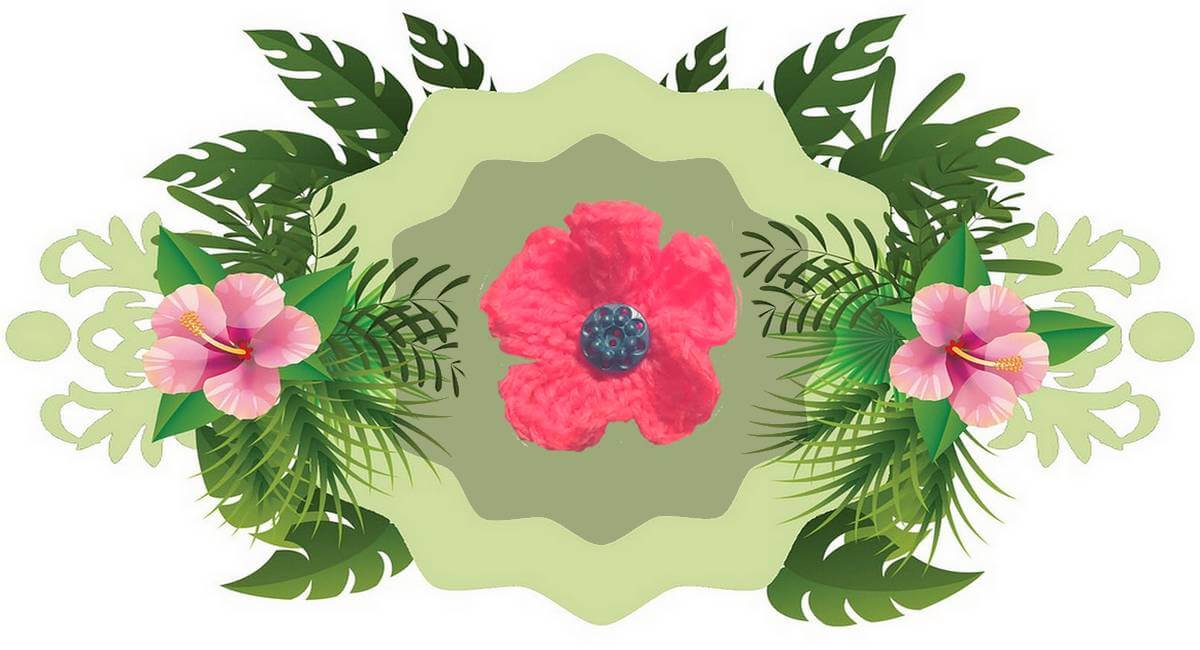 These flowers are so quick and easy to make, however, that they deserved their own page in my crocheted flower section, so here we are. I've included photos of the hibiscus flowers that I made recently, including medium and smaller sized versions for layering as hibiscus flower hair clips. (My granddaughters were thrilled!)
by Jane Lake
AllFreeCrafts is reader supported! Many craft supplies are readily available at local dollar or thrift stores. Try there first! However, if you purchase from an affiliate link on this site, I earn a small commission at no extra cost to you which keeps this site up and running. Thank you!
What You Will Need:
This is a great project to use up pretty scrap yarns.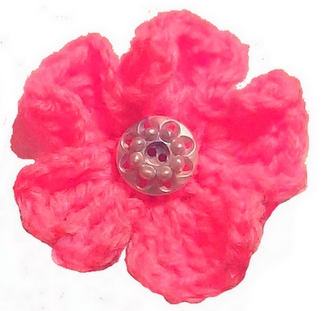 For the larger, pink hibiscus flowers, I used bright pink worsted weight yarn with a 4mm crochet hook. The smaller, multi-colored hibiscus flowers were crocheted from left-over Bernat Baby Cotton Candy yarn.
I used a 3.5mm crochet hook for the larger version and a 3mm hook for the smaller one.
These pretty flowers work up quickly so you'll soon get a sense of scale. If you want bigger flowers, use heavier yarn and bigger crochet hooks. See sample photos, of sizes and variations, below.
About Hibiscus
Hibiscus belongs to the mallow family, Malvaceae. You may also know this plant as Rose of Sharon.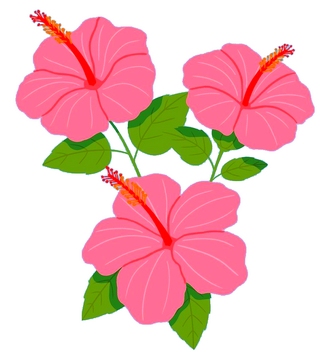 The flowers are large, from 1.5 to 7 inches broad, with five or more petals. Hibiscus colours range from white to pink, red, blue, orange or peach, yellow or purple.
Hibiscus petals can also range from slightly frilly to quite deeply ruffled (which provides the crocheter with lots of beautiful options).
You can also dry homegrown hibiscus flowers for tea.
I love this five petal pattern because it's so very easy. You will too!
Round 1: ch 5, sl st in first ch to form ring, ch 1, 10 sc in ring, join with sl st in first sc.
Round 2: Ch 1, sc in first st, ch 4, 4 tr in next st, ch 4( sc in next st, ch 4, 4 tr in next st m, ch 4) 4 times, join with sl st in first sc, fasten off. This is one flower. Make as many as you want.
That's it, folks! Two rows and you have crocheted a five petal hibiscus flower.
Crocheted Hibiscus Flowers – Sizes and Variations
Here, I wanted to show you the different sizes and variations of five petal hibiscus flowers that you can make from the same pattern. Essentially, your choice of yarn and hook will dictate the size of the flower although you can also easily vary the pattern a little bit too.
I layered the medium and small sizes to make Hibiscus Flower Hair Clips for my granddaughters.
SMALL SIZE
For these tiny crocheted hibiscus flowers, I used a 1.5mm steel crochet hook and Size 10 crochet thread in various colors (Amazon link). Each of these flowers is just over an inch across, as you can see, because each square shown behind them is a one inch square.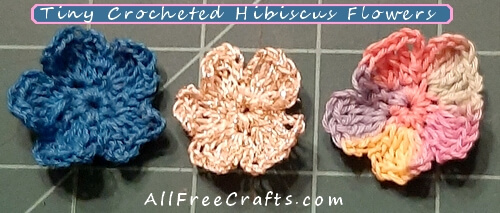 MEDIUM SIZE
My medium-sized hibiscus flowers were crocheted in baby weight yarn, specifically Bernat Baby Cotton Candy, left-over from baby booties and hat.
These turned out about two inches across using a 3mm hook. I placed the small hibiscus flowers in the centers to see how they looked and, I must admit, I did like the effect.
The flower on the right was my first try at a pattern variation because I simply crocheted five treble crochets in each petal, making for a more ruffled effect, on the right-hand flower shown here.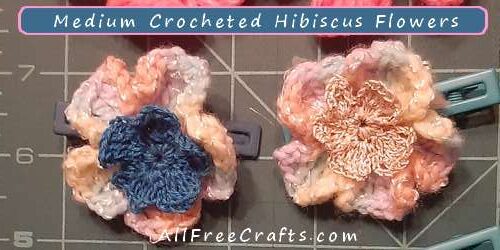 LARGE SIZE
Again, the squares shown behind these larger hibiscus flowers are each one inch square. I used worsted weight yarn for these and a 3.5mm crochet hook for the slightly larger one, reducing to a 3mm hook for the slightly smaller one.
You may notice, again, that the flower on the right is more ruffled. That's because I crocheted five treble crochets in each petal rather than four and I rather like the effect which reminds me a bit of a pink pansy.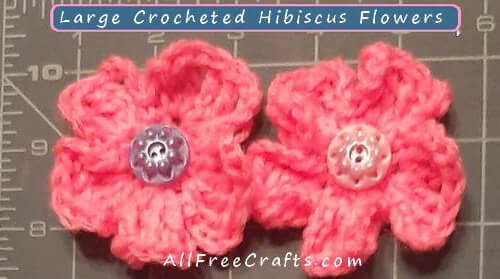 I haven't done this yet, but five petal hibiscus flowers have a prominent stamen and there are several ways that I'm considering how to add that to crocheted versions. You can buy pre-made flower stamens for crafts (Amazon link) which you can add to the back of the crocheted flower with hot glue. They may even fit through the hole of an accent button. Or use bumpy chenille stems (Amazon link) which you can easily find at the dollar store. These have potential!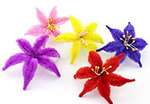 I can see one bumpy section creating an hibiscus stamen or a star effect really adding to the overall effect.
If you try this, please let me know in the comments. I'd love to learn how it works for you!
Hair Clip or Necklace Variations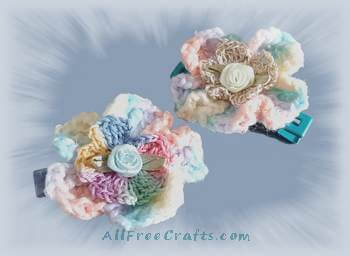 These are the hair clips that I made for my granddaughters by layering the crocheted flowers.
I used the medium and small sized versions of these five petaled flowers, topped with a silk rose.
So sweet! Just like my granddaughters!
Basically, you stitch or hot glue the flowers together then glue the layered flowers to a hair clip. But if you'd like to view more photos and details, please see the post that I added to homemade gifts. It's such a perfect homemade gift that I couldn't resist.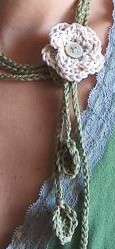 As I was working on these flowers, and making the hairclips, I thought they would also look lovely as part of a crocheted flower necklace. That made me look at an older post, Crochet a Flower Necklace, (shown at right) and I still like it too!
Perhaps I can combine the two patterns so my granddaughters have a matching set – necklace and hair clips. Mmmmmnnn. Off to my next crochet project?