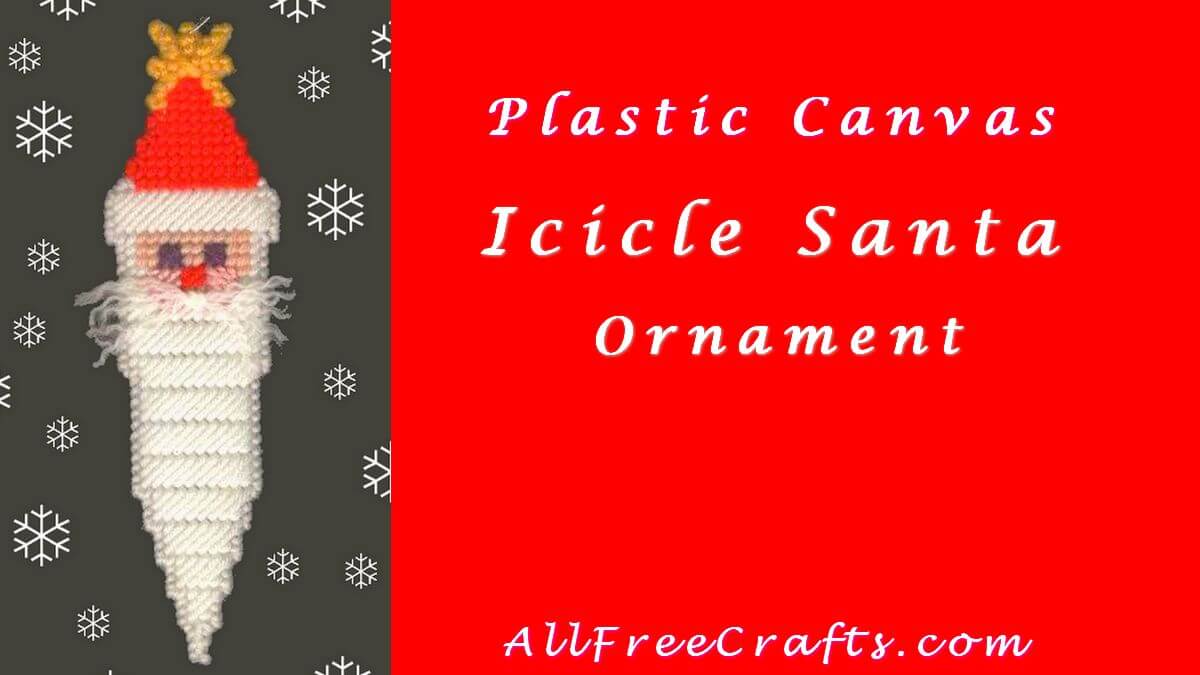 Contributed by Arleen Bevan Williams
Here's a simple little plastic canvas icicle santa to make as a gift or to hang on your tree.
If you have some experience in plastic canvas crafting then this project will be easy for you. If you are just starting out, then this Christmas ornament icicle santa is small enough for you to learn basic stitches and plastic canvas techniques.
For beginners, I recommend watching the following how-to video from the craft experts at Hobby Lobby. You'll learn how to make a double-sided keychain with full directions on how to begin stitching. The video than explains how to follow a pattern and how to whipstitch together a two-sided keychain (or, in our case, the back and front of an icicle santa).
Supplies You Will Need For this Project
AllFreeCrafts is reader supported! Many craft supplies are available at thrift stores and I actively support recycling so try that first! However, if you purchase from an affiliate link on this site, I do earn a small commission at no extra cost to you. For instance, as an Amazon associate, I earn from qualifying purchases. This has helped me keep AllFreeCrafts.com up and running since 2002. Thank you!
How To Make a Plastic Canvas Icicle Santa Ornament:
Follow the front and back patterns, provided below, on 7 count plastic canvas, using continental stitch and standard stitching techniques to create both the front and the back of your icicle santa ornament.
When both pieces are complete, carefully cut them out, then whipstitch together to complete the ornament.
Originally published on Free-Craft-Creations.com.


For a variation on this theme, see how to make a Plastic Canvas Santa Money Holder, an oldie but goodie from Pioneer Woman at Heart, or transform styrofoam, flannel and rug yarn into an adorable door Santa decoration to welcome visitors to your home this Christmas.