Last updated on October 10th, 2015 at 02:00 am
This is a variation of the old-fashioned yarn doll, using two skeins of embroidery floss to make an exquisite angel Christmas tree trim.
by Jane Lake
Craft Supplies
2 hanks of white embroidery floss
String pearls
Thin ribbon
Tulle
Tiny ribbon flowers
1/2 to 1 inch pearl bead
[xyz-ihs snippet="AFCembed"]Study the photos to help you assemble this angel.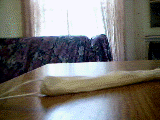 Step One
Take the paper off the 2 hanks of embroidery floss and lay flat. Take the first hank and pull a 3 ply strand thru the loop and tie a knot at the top with enough to make a hanger for the tree or where ever you want to hang your angel.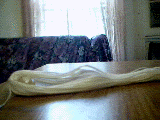 Step Two
Now put the pearl bead in between the loop you just tied a knot in and spread the strands over the bead. This is the angel's head. Tie another strand at the neck.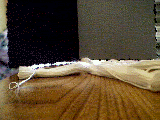 Step Three
Now slip the other hank thru the loop where you tied the neck and push up to the neck, leaving even lengths on each side for her arms. Tie another 3 strands at her waist. On the arms, tie a strand for each of her hands and hot glue each hand in the middle, one on top of each other.
Step Four
Cut the bottom loops apart evenly for her dress.
Glue on a strand of pearls and glue to her hand and then make a bow out of thin ribbon and glue on top of the pearls and then glue on 1 or 2 ribbon roses to the bow. Almost done, Make a bow out of some pretty tulle and glue onto the back neck of angel. Make a small circle with the strand of pearls and slip over hanger and glue.