Last updated on February 3rd, 2021 at 07:20 pm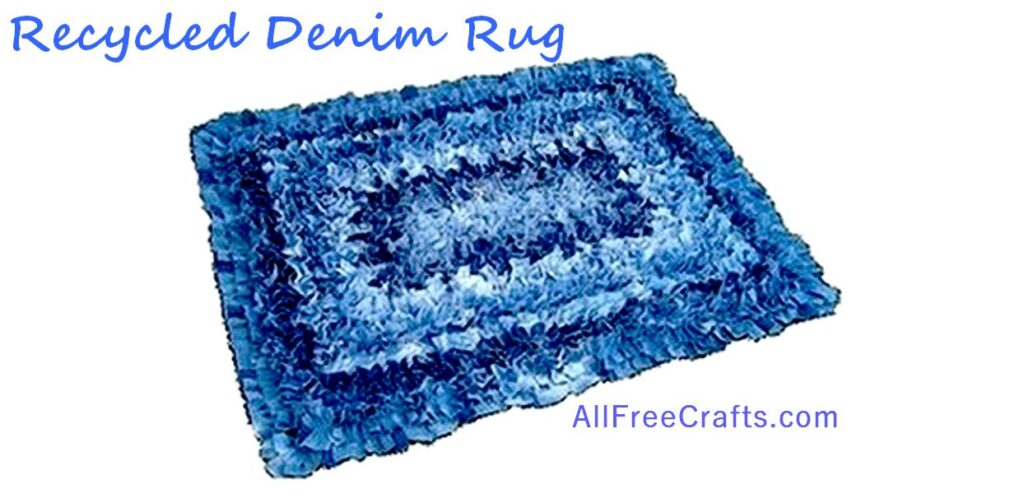 How to Make a Recycled Denim Scatter Rug
Here's a denim rug recycled from a variety of thinner denim fabrics, such as those used for shirts or skirts.
Joyce, the designer, drew inspiration from her Grandma B's hand-made scatter rugs, usually made with non-fraying double-knits.
Although the denim version does fray, especially after washing, the homespun look that results has an appeal all its own.
Joyce's denim rug is shown in two views, the first, after completion, and secondly, after washing and drying. Two jumpers, one dress, a pair of denim slacks, a work shirt and old denim skirt were all used in the construction.
If you'd like to make your own, you'll need lots of denim to cut up into small rectangles, plus a larger section of thicker denim (pieced together to get the size you need, if necessary), as the backing.
Alternatively, try making the denim bathroom rug that is part of a denim bathroom set. It is made from one inch strips of denim sewn to a denim fabric back.
Denim Rug Instructions: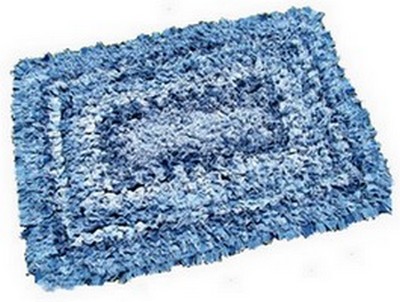 1. Cut a piece of heavy-duty denim fabric for the backing, to the desired size, and finish the edges with bias tape. (Grandma's method was to reuse the legs of jeans, sewing pieces of fabric together, then cutting to whatever size or shape was required.)
2. Mark the backing fabric with dressmaker's pencil or something similar. Start at the outside edge and draw lines one inch apart. In the sample shown, the lines were drawn in decreasing rectangles, but straight lines would work too.
3. Cut lots and lots of 2 by 3 inch rectangles of thin denim.
4. Starting in the center of the denim fabric, working outwards, begin sewing the fabric rectangles to the backing fabric. Sew straight through the middle of the rectangle width, so both sides stick up evenly, gathering the fabric either before you stick the fabric under the presser foot, or bunching it up as you sew.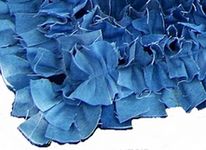 5. When you have completed one line, or gone around one marked rectangle, sew it down again to secure it.
6. For the last rounds, cut the rectangles in half along the length, to make rectangles that are 1½ inches by 2 inches, and sew along the edge of the backing fabric, so that the last row lies flat.
Suggestions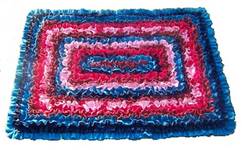 Grandma B's original double-knit scatter rugs were non-fraying and virtually indestructible, so if you have unwearables made from double-knit, velour, or other non-fraying fabrics, consider recycling them into a bright rug of your own. The colorful rug shown here, at right, was made from scraps of velour.
About the Designer:
Joyce is married to a handsome farmer, and has three children. She writes an engaging blog, called The Funky Clothespin, where she hangs out thoughts, anecdotes, and whimsical family happenings for your perusal. Thoroughly enjoyable!