Last updated on December 26th, 2015 at 01:12 am
From Blue Jeans to Denim Bathroom Accessories
By Jane Lake
A reader kindly sent me these photos of the denim bathroom accessories that she had made from old blue jeans. Guests to Crimilda's home enjoy the look, and the fact that she used recycled materials to make them.
Although there are no exact patterns to follow, I found her ideas very appealing; I thought some of you might too. If you have some basic sewing experience, the following details should enable you to sew your own versions of Crimilida's denim bathroom accessories:

Window Valance:
Cut strips of denim to the same length, then sew together, alternating dark and light shades of denim, until the valance is the required length. Add lace flower trim to the bottom, if desired, and sew torn strips of denim as equally spaced loops along the top.
[xyz-ihs snippet="AFCembed"]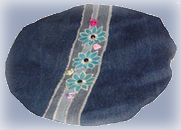 Denim Toilet Bowl Lid Cover
Place a piece of paper under the toilet lid and trace around it. Add two inches all around and cut out from a single piece of dark colored denim (bell-bottom jeans were used for lid cover shown here).
You can leave the lid cover plain, or embellish as shown: create a stripe from one or more pieces of light colored denim, or piece several pieces together to go across the center of the cover. Apply with hemming bond and, if desired, sew on trim.
Fold and sew a casing all around the cover and thread with elastic to fit.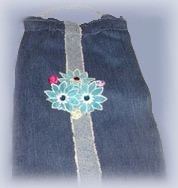 PinDenim Toilet Paper Holder
Need a handy place for those extra toilet paper rolls? Make a toilet paper holder by sewing denim pieces together to create an open loop of fabric that is two inches wider than the rolls and long enough to enclose two or three of them. Store the rolls inside the loop then hang it within easy reach of the toilet for convenient roll replacements.
Denim Toilet Tank Lid Cover
You can make a toilet tank lid cover quite easily by measuring the length and width of the lid and adding a couple of inches.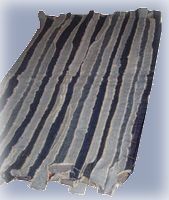 Pin Attach elastic from one corner to the opposite diagonal corner; repeat with the remaining corners, so that you have a criss-cross of elastic on the wrong side of the denim. Fit the cover on the lid, tuck in the sides and replace the lid.
Denim Bathroom Rug
To make a bathroom rug similar to Crimilida's, tear one inch strips of denim and sew them onto a backing piece of denim, overlapping strips as you go. Leave the ends slightly uneven, or straighten them, according to the look you prefer. Wash and dry the rug, then remove any extra threads.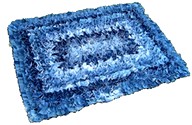 The Denim Rug shown at right is made by sewing rectangles of thinner, shirt-type denim, to a base of thicker denim pieced together from blue jean legs.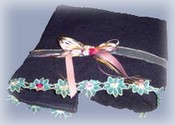 Denim Trimmed Towel
Accent bath and hand towels by sewing on a stripe of denim; if desired, further embellish with flowered trim and ribbons.