Last updated on March 16th, 2021 at 02:23 am

Free Sewing Pattern – Barbie® Blue Jean Skirt
By Miss B Couture
Use a scrap of recycled denim from your faded blue jeans to make a fashionable mini skirt for Barbie® in two easy steps.
This simple free sewing pattern is provided by Miss B Couture, a fashionista of Barbie's homemade wardrobe.
Miss B Couture says, "This little blue jeans skirt was a drawing from my daughter. She wanted the skirt to go with the red tights and a red shirt. I tried to follow all her drawing and she was so excited with the result. I hope you'll like it. Happy sewing!"
For great free sewing patterns for Barbie dresses and recommended videos on how to design and make your own doll clothes, please see Are Handmade Barbie Clothes Making a Comeback?
Sewing Supplies:
Front: 4″ x 3″ (10cm x 7.5cm)
Back 2 rectangles: 2½" x 3″ (6.5cm x 7.5cm)
1 sew on snap
1 decoration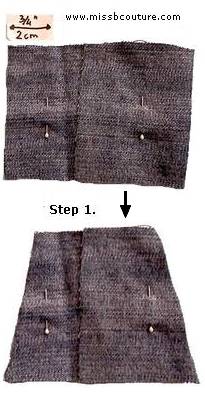 Step 1:
– Pin the front and back fabrics together
– Draw a point at ¾" (2cm)on the top on each side
– Cut from this point to the bottom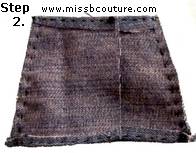 Step 2:

– Sew the sides of the skirt
– Sew a hem on the top and bottom
– Put the skirt reverse on the doll and pin in the back up to ¾" (2cm) from the top
– Sew the back, sew a hem on the rest of the fabric, sew a sew-on snap.