Last updated on February 25th, 2021 at 07:49 pm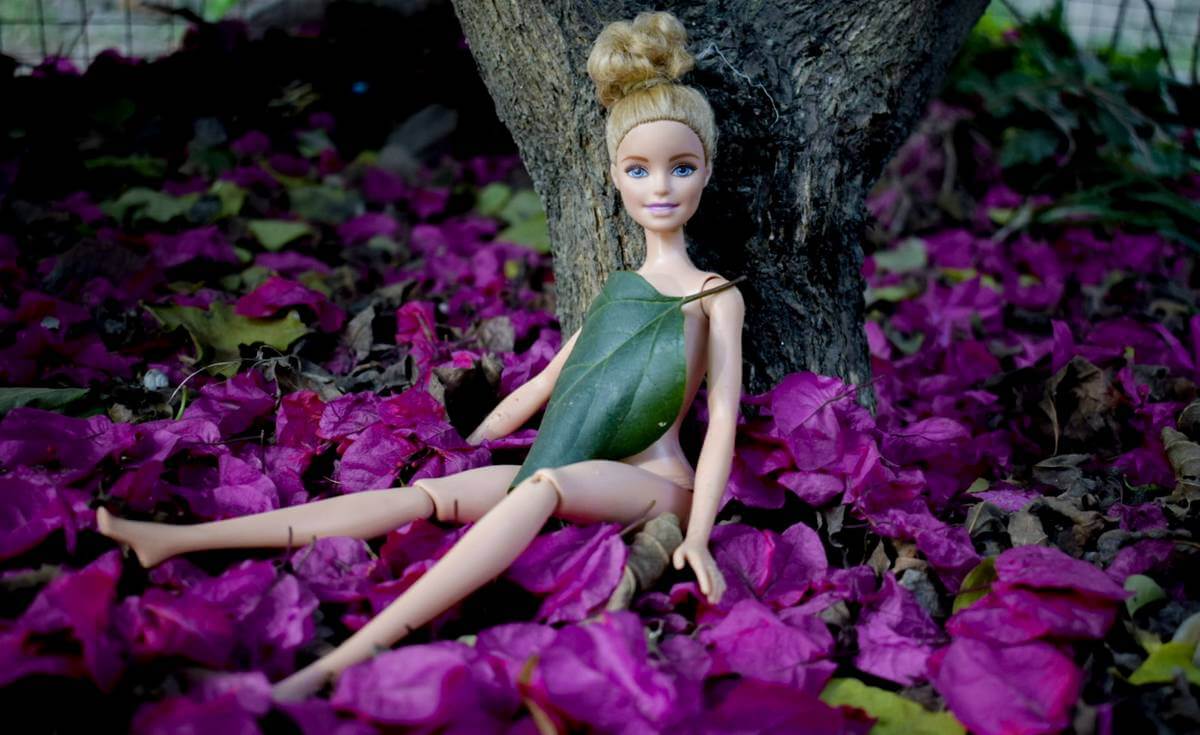 Bringing Back Handmade Barbie® Clothes
By: Adrienne Hughes
Remember playing with dolls when you were a child? If you were like me, you had a Barbie® doll or two in your toy box. Barbie® was introduced in 1959 by a lady named Ruth Handler (co-founder of Mattel). Ruth named the doll after her own daughter, Barbara.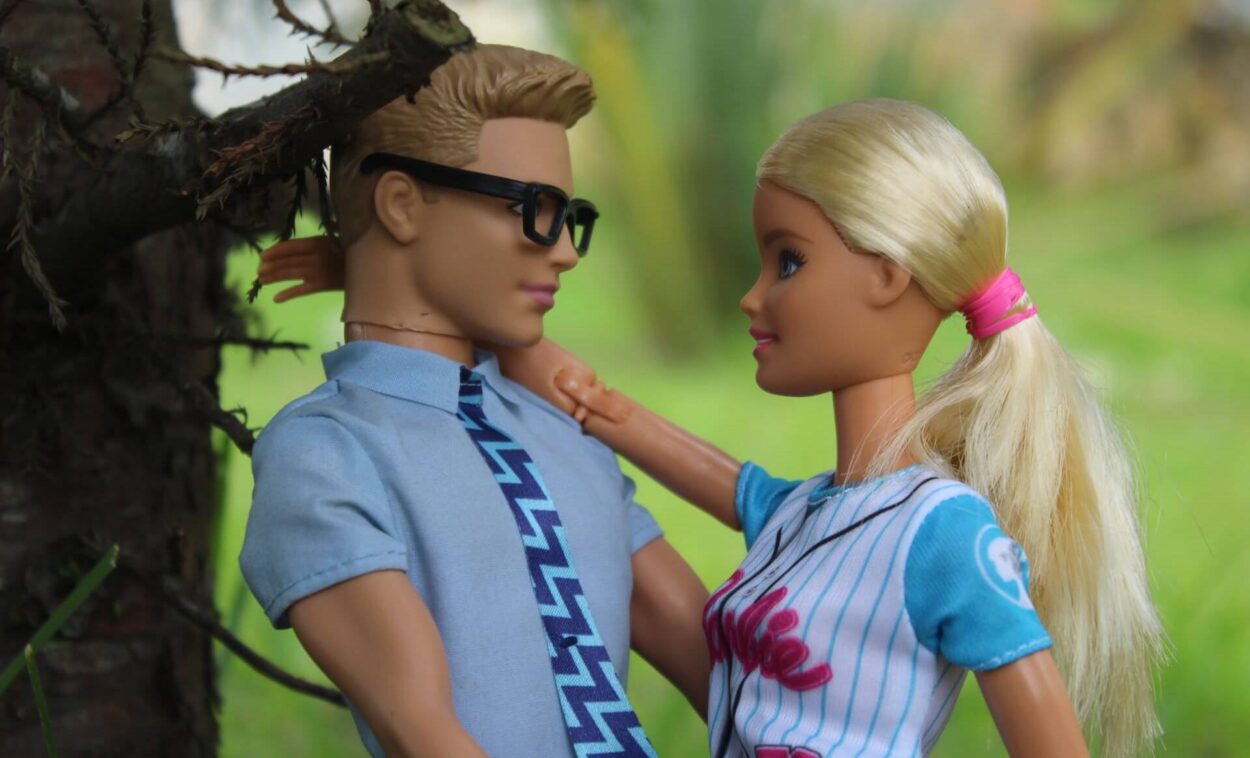 In 1961, Ruth created Barbie's boyfriend, the Ken doll, named after her son. Now, more than half a century later, Barbie® is still in the hearts and toy boxes of children (and adults) everywhere.
Our children today have more toys than ever. Electronic toys, video games, iPads, and computers are just the beginning. So much has changed in the world of toys since we were children but one thing that hasn't changed is the simple love of the Barbie® doll. Barbie® today has new friends, new clothes, a new house, and even more new pets than she did 60 years ago. However, little girls today still enjoy dressing and primping Barbie to act out her fantasy life during playtime.
My grandmother was a seamstress. She would sew beautiful clothes and accessories for my Barbie® doll collection. I had a suitcase full of her handmade creations and the kids in the neighborhood would come over so we could dress the dolls. I loved selecting the fabrics and picking out dress styles. Although I didn't realize it at the time, the clothes she made for my dolls were better quality than anything I could buy in a store.
As a teenager I became interested in sewing. Because my grandmother had passed, I was left to teach myself how to sew. I spent hours upon hours in front of my Kenmore sewing machine turning out beautiful creations. It came so naturally to me. Through the years I created clothing for myself and my family, window dressings, and decorative home decor items. I later spent about 5 years doing ready-to-wear clothing alterations for the general public. Then, about 10 years ago, a dear friend gave me the greatest birthday gift… a Barbie® doll. Let me tell you, you are never too old to receive a Barbie® doll!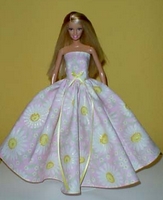 While going through some old boxes during our last move, I found a box with many of the Barbie dresses my grandmother had made. The finding inspired me! I would make new clothes with today's fabrics for my Barbie® doll. What could be better than handmade doll clothes? They are hard to find in this day and age because people don't have or make time to sew like they used to. As I began creating beautiful dresses, everyone who saw them wanted to buy them so I added them to my online craft store. I couldn't believe the response. I received many emails from people who told me beautiful stories of their mothers, aunts, and grandmothers who handmade their doll clothes when they were children. I then knew that bringing back handmade doll clothes for today's families would begin new traditions and help create beautiful memories and gifts that could be passed down through generations. In a world where everything is so commercialized, going back to basics with Barbie® has reminded me of a wonderful time in my childhood. Today, my greatest joy is knowing that my creations will be passed down through generations and that I have a hand in helping today's children create memories that will last a lifetime.
About the Author: Adrienne Hughes, seamstress and e-book author of "Sewing Patterns Defined" lives with her husband, her Yorkshire Terrier, and her Barbie® dolls in Texas. She has no affiliation with Mattel. Until her retirement, she ran an online Barbie clothing store at SewingbyAdrienne.
More Free Barbie Sewing Patterns
If you prefer to make your own Barbie® clothes, check out the Free Printable Fashion Doll Clothes, by JanelwasHere, an inspiring site, which includes a pattern for Barbie's new belly-button style body. These Barbie® patterns include step-by-step photos to follow and discussions about several variations of homemade Barbie dresses.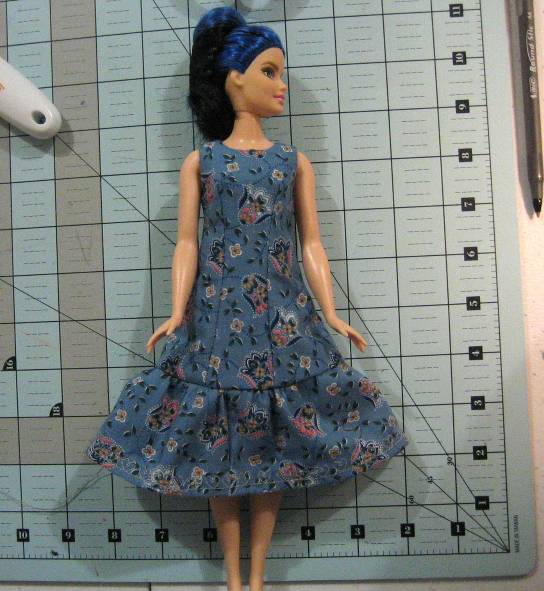 Check out Janel's Free Dress Pattern for Curvy Barbie® which is a princess dress pattern available as a free PDF download on Janel's site.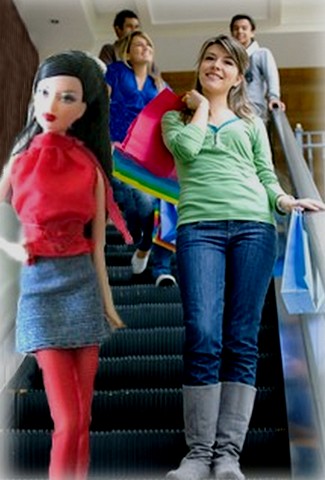 We also have a simple pattern for a Barbie® Blue Jeans Mini Skirt, contributed by Miss B Coutoure, who once offered free doll clothes pattern on her fashion blog for Barbie®. Her daughter's Barbie, who models most of the clothes, is shown around town (above) wearing her Barbie® Blue Jeans Mini Skirt on the escalator.
If you are interested in designing your own Barbie® clothes, check out the MyFroggyStuff YouTube Video How to Make a Doll Dress for visual tips on sizing, constructing and sewing your own doll clothes. MyFroggyStuff also offers a quick video prom dress tutorial using tulle.