Last updated on March 8th, 2018 at 10:59 pm
How to Decorate Mini Pumpkins for Halloween
by Jane Lake
Mini pumpkins are widely available in grocery stores and farmer's markets in the fall, providing lots of opportunity for creative Halloween decorating for children and adults. Decorating mini pumpkins is also a safer alternative to pumpkin carving for younger kids, and because these miniature versions of the field pumpkin are relatively inexpensive, they make a good choice for group Halloween crafts.
Choose mini pumpkins with an even orange color and smooth texture, with no visible signs of mould.
__________
A short stem can become part of the decoration, but pumpkins with no stems are useful if you'll be adding hats.
If you purchase the pumpkins more than a day ahead, store them in a cool, dry place (or in the fridge, if you have the room).
Wash the pumpkins with a damp cloth and dry thoroughly before adding any decorations.
Here's how to decorate mini pumpkins for Halloween: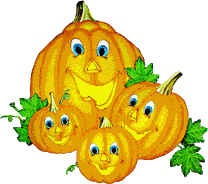 Pin

Face Painting:
Use acrylic craft paints, plastic model paints, paint markers, Sharpie pens or permanent markers to add faces to your mini pumpkins.
Check images on the internet, or in grocery flyers, for feature ideas. You can see three possibilities in our photo that are fairly easy to copy. Younger children can opt for the traditional jack o'lantern face, using easy triangle, circle or arc shapes for the eyes, nose and mouth.
Practice the facial design on paper first, then pencil the design lightly onto the pumpkin before painting in the features.
Halloween Cut-Outs
You can cut shapes from felt, craft fun foam, or construction paper to glue onto the pumpkin as a face or other design.
Consider precutting simple facial designs for children to glue in place – offering a choice of different triangles, circles and smile shapes provides a surprising number of design possibilities. Plastic goggle eyes make a nice addition, and come in a variety of shapes and sizes.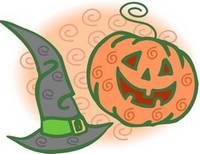 PinHats, Caps and Wigs
Top your mini pumpkin with a witch hat made from paper or felt – simply cut out a half circle and glue into a cone shape to fit or print this Free Printable Witch Hat Pattern to make a craft foam witch hat following the instructions for the Light Bulb Witch Face. Add a brim, or simply glue black feathers to the bottom of the hat, then glue the hat in place, as shown in our photo.
Cut a circle of black felt to make a flat cap – glue black feathers around the edges, then add a circle of glue to the top of the mini pumpkin and set the feathered cap into the glue.
For a wig effect, glue on strands of doll hair.

Spider Web Mini Pumpkin
Draw the outline of a spider web on one side of the pumpkin, then outline it in black permanent marker, black glitter glue or craft paint. Another option is to glue on strands of yarn to form the web. Allow the paint or glue to dry, then glue on a large plastic "mother" spider and several Halloween confetti "baby" spiders.

Black Cat or Bat Mini Pumpkins
Simply use as mini pumpkin as the "moon" in front of a painted black cat silhouette or a black bat silhouette.
Smiley Mini Pumpkin
Easy, peasey and very pleasing. Just draw a happy face on your mini pumpkin then paint it in with black glitter glue, craft paint or permanent marker. Top the pumpkin with a small cheeky tuft of feathers, a small piece of fake fur, or a small circle of doll hair.