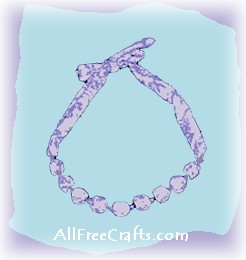 PinFabric Tube Necklace or Headband
By Twila Lenoir
I made this for my outfit but my daughter stole it for a head band.
Enjoy !
Supplies:
Lightweight material(2×31 inch strip)
10 Clear or gold pony bead
Instructions: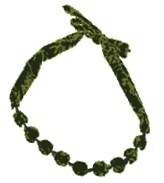 Pin
Fold your fabric in half the long way, right sides together. Sew a 1/4 inch seam allowance on one short end and along the entire length, leaving the other short end open. Turn right side out.
Step 1:
Put a pony bead on the outside of the material as if you are threading the bead with your fabric.
Step 2:
Take a big bead and push it into the opening of the fabric tube. Feed the bead through to the middle with your fingers.
Step 3:
Now for the cool part – put another pony bead on and push tightly to form a material bead. Follow these steps again until all your beads are used. Make sure you end with a pony bead on each end. Stich your end closed and tie a bow in the back.