Last updated on November 9th, 2015 at 11:11 pm
Common crystal beads and chenille stems combine in this easy-to-make crystal swirl ornament that brings to mind Victorian baubles and beaded ornaments typical of the Victorian era.
For a modern version, using the same basic supplies, check out Beaded Tree Trims, which shows how to use the same basic beaded design to create three very different beaded Christmas ornaments.
Material:
1 – 13mm star pony bead
1 – 4mm faceted bead
2 – 6mm faceted beads
2 – 8mm faceted beads
1 – 10mm faceted bead
3 gold or silver metalic chenille stems
Pencil
Needle nose pliers
Wire cutters
[xyz-ihs snippet="AFCembed"]How to:
The step-by-step instructions for this project are provided mostly by diagrams provided below; please refer to each diagram to the left of the text for ornament assembly details.
[one-half-first]

Step 1
Fold chenille stems in half wrapping the centers around a pencil to form a loop. You will have six strands with a loop of all strands at top.

Step 2
Feed star pony bead through all six strands and bring to bottom of loop. Keep loop open to hold bead in place.

Step 3
On a single chenille stem feed four 4mm beads, then one 6mm bead, then one 8mm bead, then one 10mm bead, then one 8mm bead, then one 6mm bead, then four 4mm beads. Turn chenille stem upward to keep beads in place and repeat the same process for other five remaining stems.
[/one-half-first]
[one-half]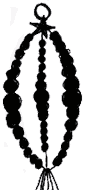 Step 4
Once all stems have been filled with beads, Push all beads toward the
star and pinch together all 6 stems at the bottom.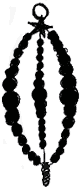 Step 5
Twist securely all six stems at bottom and cut away all but 1/2 inch of the stem ends.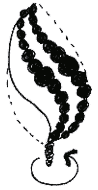 Step 6
Holding your ornament securely at the top and bottom, twist the entire
ornament. The ornament will hold in place.[/one-half]
Copyright © 1999-2013 Susan Spatone All rights reserved.