Last updated on March 4th, 2016 at 12:31 am
Nautical Decorating and Nautical Craft Ideas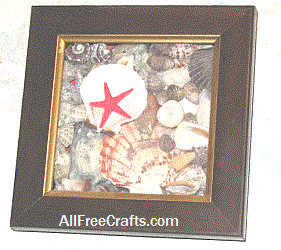 Pin
by Jane Lake
If you live by the ocean, or savor holidays by the sea, then decorating with a nautical theme will be a fun endeavour for you, bringing with it comforting memories and a pleasant seaside ambience.
Bring a few nautical touches into the family room to warm up that basement with interesting objets d'art made from shells or souvenirs gathered on a family holiday to the seaside. A nautical themed bedroom may also delight a child who loves the beach and can be accomplished quite inexpensively.
Consider the following nautical decorating ideas and crafts inspired by the sea:
[xyz-ihs snippet="AFCembed"]
Nautical Decorations:
For large impact, especially for those who love fishing, purchase a fishing net from a sporting goods store, and suspend it from the ceiling or from one wall of a room.
Investigate wallpaper borders for an easy room update. Many nautical themes are available from seashells to exotic fish and seahorses, or seaside landscapes.
Buy a seashell stencil, available at most craft stores, to accent a window or door frame or stencil a lampshade.
Buy a barometer set in a brass "ship's wheel" style clock face.
Invest in a seascape print or poster, or hire a local artist to paint a mural of your favourite seascape scene on a wall in your home.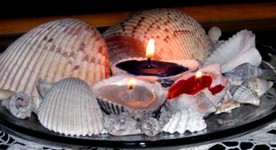 Pin
For the kitchen or bathroom, look for shell shaped soap dishes, shell shaped mini soaps and nautical themed liquid soap containers (or buy a clear plastic or glass liquid soap container and add a few small seashells of your own.) Don't forget soap on a rope for the shower!
For a child's bedroom, look for shell-shaped nightlights or revolving lamps that throw a colorful undersea scene on the walls or ceiling.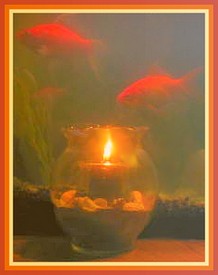 PinFree Nautical Craft Ideas:
Fill a shadow box with seashells as shown in the photo above.
Knit a Nautical Eyeglass Case to hold your sunglasses or spectacles.
Make your own Seascape Gel Candle, a Fish Bowl Sea Candle, (shown at left) or the Seashell Tea Candles (shown directly above).
Use hot glue to add hangers to seashells, paint and decorate with glitter to hang on the Christmas tree, or try painting our Sand Dollar Poinsettias.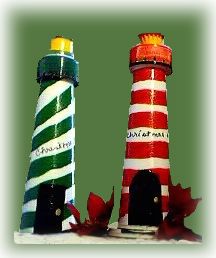 Pin
Recycle thread spools and the lids to dishwashing liquid to make our Lighthouse Spools, at right.
Nautical Sights and Sounds: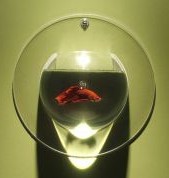 PinInvest in a tank of goldfish or a tropical aquarium. If a tank would be too time-consuming for you, consider a single but colorful betta fish. Betta fish require little in the way of maintenance but are guaranteed to add an exotic natural element to any room.
Indoors or outside, consider adding the soothing sight and sound of a small water fountain to help you de-stress at the end of the day. There are many models available, from inexpensive tabletop models to those that dominate a wall.

Pin
Finally, also outdoors, or perhaps hanging where the breeze will catch it in an open window, install a seashell wind chime. The soft tinkle of shells is something you can't reproduce with wood or metal, and each chime will have its own distinctive sound according to the shape and size of the seashells that you use.
Here, you'll  find three very different homemade seashell wind chimes for DIY inspiration.