Last updated on March 8th, 2018 at 10:57 pm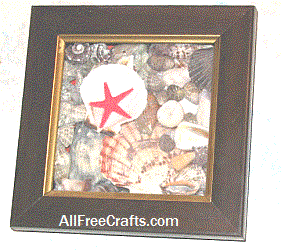 PinThink inside the box! Nothing could be easier to assemble than this DIY Seashell Shadow Box – which makes this seashell craft suitable for children as well as adults.
by Jane Lake
This is also a great way to display seashells collected on your vacation, but if you can't do that, then Assorted Sea Shells by the Pound
(shown below, right) might be an option for you.
All you need for this nature craft is a shadow box and seashells. The shadow box pictured here was purchased in a dollar store; it had a plastic flower inside which was removed. Total size of this box is about 5″ x 5″. Sometimes deep picture frames can be adapted to use as a shadow box – watch for thrift store or garage sale bargains!
1. Remove the back of the shadow box and place the box on a table with the glass side down. Beginning at the bottom of the box, begin arranging the seashells. For the best balance, position several larger seashells as the lower layer, with medium sized seashells in the middle and smaller ones at the top.
Pin
Seashells by the Pound
– Sizes 3/4″ to 3″ wide
– About 40 shells
– Scatter on your table for nautical flair
2. Place the seashells in upside down, so that you're looking at the bottom of them and the fronts will show through the glass.
3. Use smaller shells to fill in any gaps between the larger shells. Gently pick up the box and tip it on a slight angle to force the shells to fall into a natural position. You'll probably find that this creates a gap at the top which should be filled in with more small shells.
4. Preview your shadow box seashell display by carefully holding the box above your head to see through the glass. If the shells are positioned in a pleasing way, replace the cardboard back and fasten in place with the pins or tacks provided.
5. If there is too much gap between the shells and the cardboard, fill the space with quilt batting, fun foam, more cardboard, or other lightweight material that will prevent the shells from moving.