Last updated on March 1st, 2016 at 11:49 pm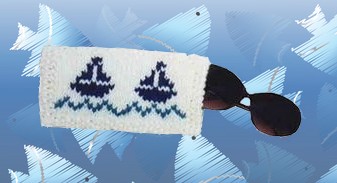 Pinby Frugal Knitting Haus
Here's a free knitting pattern with a nautical sailing ship theme that is suitable for a Father's day gift or for anyone who enjoys boats or sailing. The eyeglass case pattern is worked sideways and works up quickly in worsted weight yarn.
NAUTICAL EYE GLASS CASE
Finished Size:
About 3½ inches Wide by 7½ inches Long
[xyz-ihs snippet="AFCembed"]
Materials: Worsted Weight Yarn, about 2 ounces of main color, about 4 yards of color "A" for waves, and about 12 yards of color "B" for boats. One pair U.S. # 8 needles.
Gauge: Approximately 9 sts. To 2 inches, and 5 rows to 1 inch.
Directions: (Made Sideways)
With main color, cast on 32 sts. Work in seed stitch, (K1, P1) across row, on return row, P over the K sts., and K over the P sts. Across, for 3 rows. Next row, work seed st. over first 3 sts., P across to last 3 sts., then work seed st. over these sts.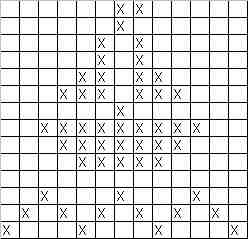 PinStart Graph: Keeping seed sts. on the first 3 and last 3 sts. of each row, work graph in stockinette st. (K1 row, P1 row), repeating graph twice. Continue to finish rows of graph. Now work in main color only keeping first 3 and last 3 sts. In seed st. while working 2 more rows in stockinette on center sts. Now work entire row in seed st. until total length from beginning of work is about 7½ inches. Bind off.
Weave yarn ends to wrong side of work and fasten off. Sew side and bottom seam.
Makes a nice eyeglass case for either men or women.
Copyright 2003-2016 © Frugal Knitting Haus, Harpers Ferry, WV 25425-0346