Last updated on January 21st, 2022 at 12:06 am
How to make a hand and footprint "tree of life" art project with young children.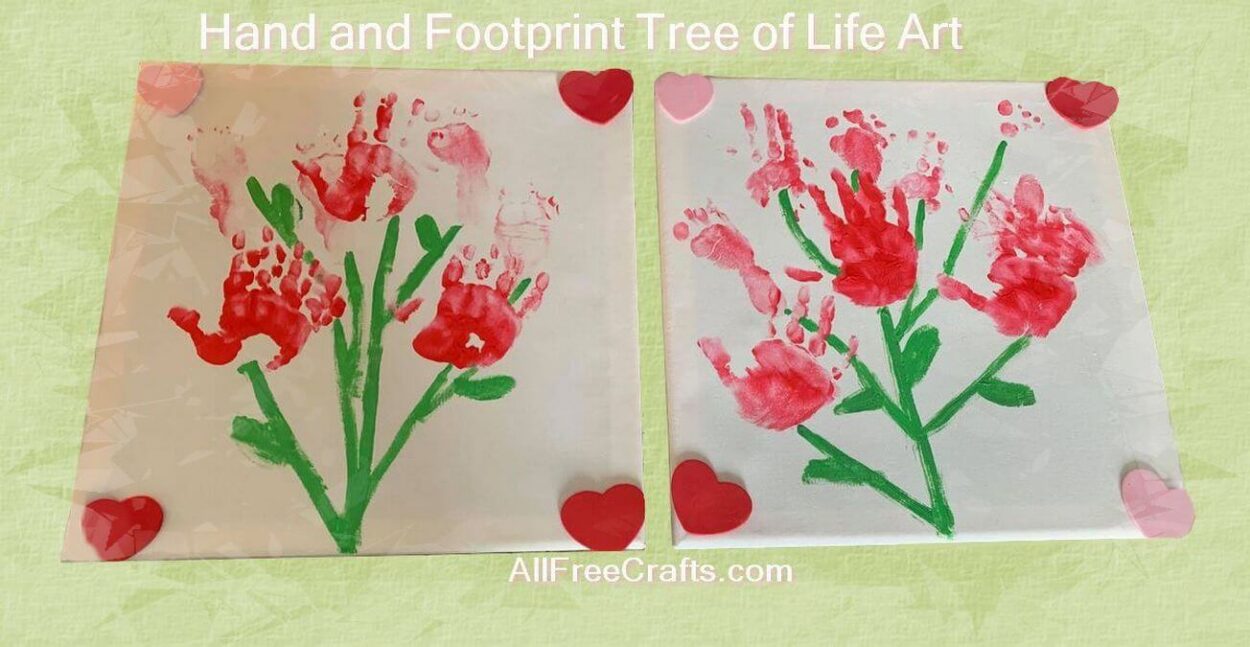 This is a special Valentine's craft project for me because it was made by the hand and footprints of my two young grandchildren (with a just wee bit of help from their crafty mom!)
It is very similar to this Handprint Flower Scroll, which has been on AllFreeCrafts for almost 20 years. This one is also done on canvas (paper is just fine too) but it's made with the hand prints of a two-year-old and the footprints of a baby.
It struck me immediately as an early "tree of life" art work worthy as a keepsake that you'll treasure forever.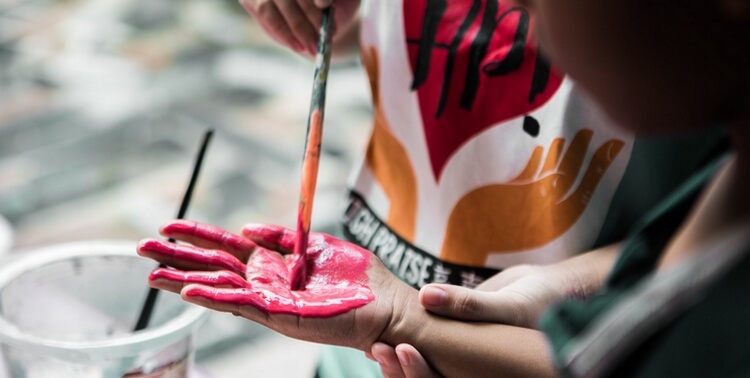 How-To:
First thing, I'm told, is to get your toddler's interest in the craft at hand. (Sorry for the pun.)
Secondly, get your supplies in hand. (Ok, couldn't resist. Me bad.)
If that's all sorted, keep calm and carry on!
Supplies:
children
non-toxic paint
paint brush
canvas or paper
paint brush, sponge or a paper towel dipped in paint (whatever works)
Set Your Foot Down
Expect ticklish hands and feet, distracted kids, and more mess than you hoped for. A couple of damp paper towels or washcloths nearby help a lot!
Prepare a couple of pieces of construction or computer paper for first attempts and try things out. Start by painting a simple (I mean really easy) tree trunk centered in the page with strategic branches pointing out from the middle to well-spaced areas on the page or canvas ready to take the printed "leaves".)
Now the fun part. Explain to your little one that they are going to create the trees leaves. Paint their hands (or if your child is a baby, talk baby talk, tell them they will love this, apply paint to their hands or feet and do your best to get both elements to connect long enough to make a print).
Repeat. Fill the branches with a combination of hand and foot prints for as long as the kid(s) will cooperate or until the tree branches are in full leaf.
Stop. Clean the kids. Show them the results of their labours with appropriate appreciation and happiness. 🙂
Clean up the work area, put the paints away, set the canvas or paper "tree of life" masterpieces aside to dry.
Display these early works of art prominently or give them to those family members (like me, or any grandparent, Godparents, aunts, uncles or friends) who will truly appreciate for what they are.
And, no kidding now. What they are is priceless works of heart.