Last updated on February 24th, 2018 at 12:12 am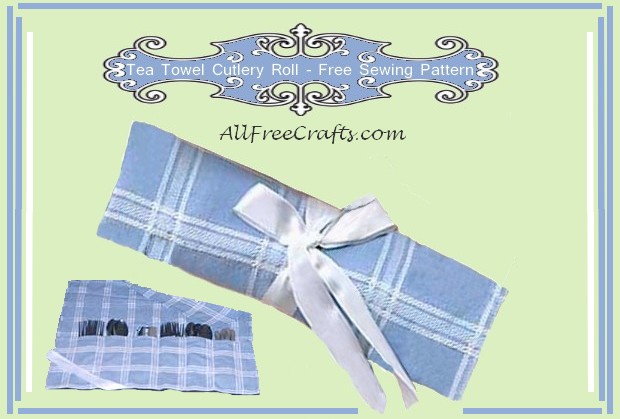 PinThis Tea Towel Cutlery Roll sewing pattern shows you how to make a quick and easy holder for your cutlery.
I use this holder for my outdoor cutlery.  It's a quick and easy way to get dinner set up on the deck or to eliminate plastic cutlery for picnics.
You only need one tea towel, but it will hold a complete cutlery setting for 12.
For a smaller project, check out Denim Cutlery Pouch to make in less than an hour from recycled jeans.
Material:
» » Tea Towel
» » Matching Thread
» » Ribbon
» » Pins
Free Pattern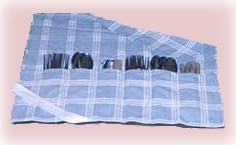 Preparation:
It's a good idea to wash your tea towel before sewing.
Iron your tea towel if it's a little wrinkled.
Lay your towel flat (right side down) and fold up one end, approximately 7 inches (this will vary depending on the size of your tea towel).
Sewing:
See Diagram 1 – towel to be folded along dotted line.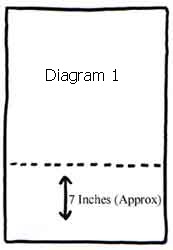 Pin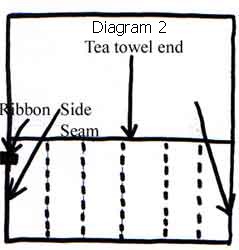 PinFold a strip of ribbon (Approximately 30 inches long) in half. Insert the folded edge of your ribbon, between the wrong sides of your towel, as indicated on diagram 2.
Pin your ribbon in place and pin together (wrong sides) the side seams. Measure equal amounts to divide your towel for the insertion of cutlery. I used a measurement of 2 1/2 inches. This will vary depending on the size of your tea towel. Be sure to allow a large enough opening for the insertion of your cutlery.
Pin the divisions (as indicated by dotted lines in diagram 2) in place.
Sew together the side seams and a straight stitch through all of the divisions. Be sure to secure your end stitches. That's it!
Fold the top flap down over your cutlery and roll from the side without the ribbon strip. Wrap your ribbon around and tie.
Copyright © 1999-2018 Susan Spatone All rights reserved.