Last updated on October 3rd, 2015 at 01:08 am
Ring Pincushion
By Jane Lake
A few inexpensive supplies are all you will need to make this pretty and practical pincushion ring. It is ideal for keeping pins handy while you are machine or hand sewing, setting the hem on a dress, or pinning a pattern on fabric. Just slip the elastic ring on your finger and store pins in the miniature pincushion as you work.
Supplies:
2-1/2 inch fabric circle
1″ plastic bottle cap
small amount of stuffing
pregathered lace
sewing thread
one large screw and screwdriver
glue gun and glue sticks or fabric glue
[xyz-ihs snippet="AFCembed"]
Instructions: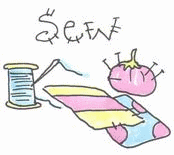 Pin1. Cut 2-1/2″ fabric circle and sew pregathered lace around the edge, with right sides of fabric and lace facing, overlapping the lace ends by 1/2″.
2. On the back of the circle, machine or hand sew gathering stitches around the seam. Pull thread to gather the circle evenly to approximately 1-1/2″ and fasten off thread.
3. Stuff the gathered circle with fibrefill, cotton balls or other soft stuffing.
4. Punch two holes in the bottle cap – I used a large screw and screwdriver, forcing the screw into the cap and then unscrewing it to leave each hole large enough for the elastic.
5. Thread elastic through the two holes, leaving enough to make a ring for your finger protruding from the top of the bottle cap. Tie the ends of the elastic off in a secure knot on the inside of the bottle cap.
6. Glue pincushion to the rim of the bottle cap with hot glue or craft glue.