Last updated on January 17th, 2015 at 08:29 pm
by Twila Lenoir
Homemade cards are special because they are unique, and because of the time and care that you spend making them – that's why Dad will love this "handyman" card that kids can make themselves!
Supplies:
Construction paper in black and a color of your choice
Gel pens
Fancy sissors
Stick glue
Instructions:
Print the Tools Template and cut out the hammer and saw shapes.
Take both sheets of construction paper and fold them in half together, with the colored sheet on the inside. With fancy scissors or pinking shears, cut along the three open sides to make a fancy edge.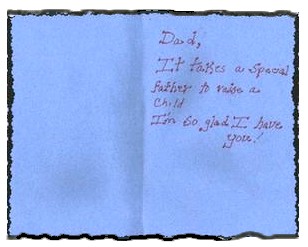 PinRun the glue stick down the middle of the black paper. Place the colored paper back in place, just a little to the left of center, so the edges of the black paper can be seen when the card is opened, and the edges of the colored paper can be seen when the card is closed. Press along the glue line to secure.
Trace the template patterns for the hammer and saw onto the front of your card and color them with gel pens.
If you like, you can also write the saying on the front of the card, and on the inside, or use your own poem or greeting.
We wrote:
It takes a special father to raise a child,
I'm so glad I have you!