Last updated on January 2nd, 2023 at 01:51 am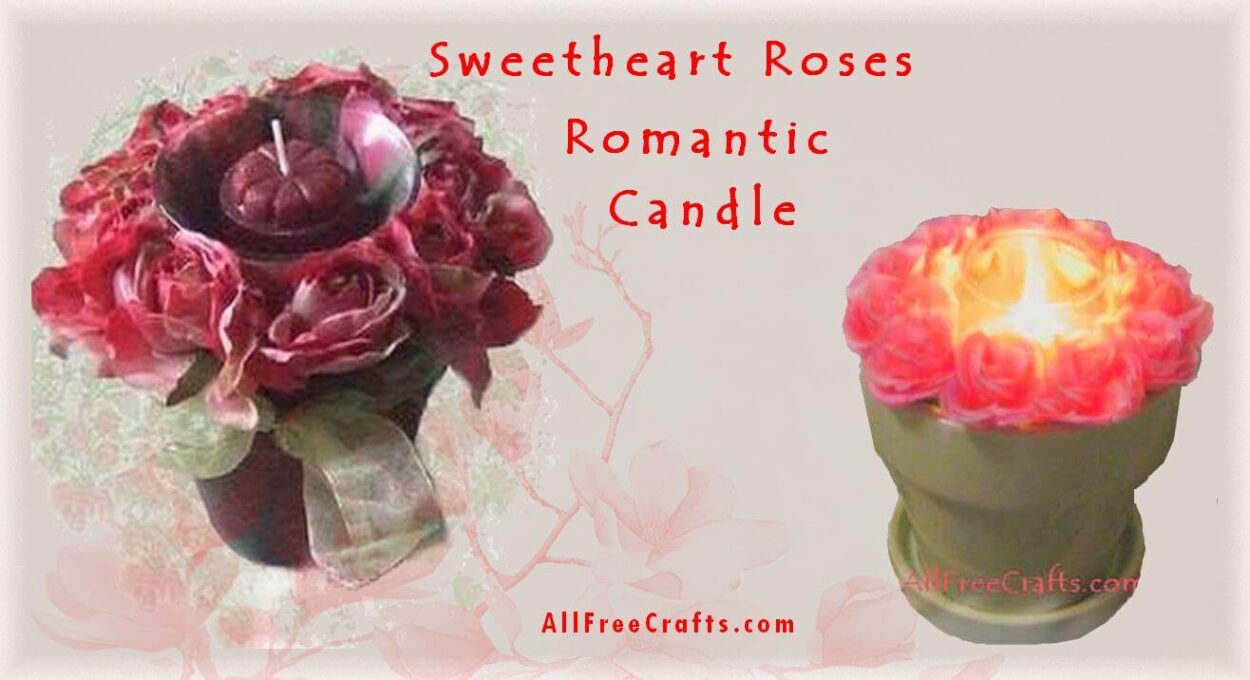 What could be more romantic than candlelight and roses?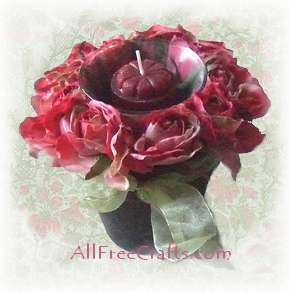 Combine sweetheart roses with the ambience of candlelight with this pretty, rose-scented candle centerpiece.
by Jane Lake
Done in pink or red, this arrangement would be great for Valentine's Day or Mother's Day.
I can also see this candle project made all in white or cream, with luxurious sparkling bows, for wedding tables.
You Will Need:
AllFreeCrafts is reader supported! Many craft supplies are readily available at local dollar or thrift stores. Try there first! However, if you purchase from an affiliate link on this site, I earn a small commission at no extra cost to you which keeps this site up and running. Thank you!
rose-scented candle
approximately one dozen artificial sweetheart roses
a clay pot with or without a saucer
a glass votice candle holder that fits inside the clay pot with a gap of about one inch between the votive and the pot rim
florist's foam
another votive or a small jar to use as a mount (see the first step detailed below for an explanation)
ribbon
serrated knife
Project Instructions
Prepare the Base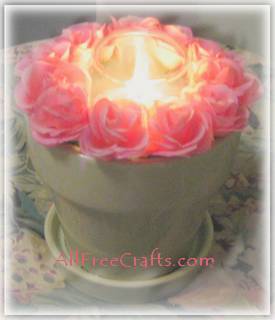 Place one of the votives inside the clay pot, upside down, to act as a mounting base for the main votive.
The upper votive should stand in the center of the pot, with about one inch gap between it and the pot rim, while also rising above the pot rim by about one inch. If the height is incorrect, use a small jar or another recycled object as the mount instead; anything will do as long as it will securely support the upper votive.
Use the serrated knife to cut florist's foam to fit snugly inside the clay pot, surrounding the votive and positioning it securely in the center of the pot. The upper surface of the florist's foam should be about a half inch below pot rim.
Prepare the Flowers
Cut off the stems of the sweetheart roses, leaving just a small stub behind the center of each rosebud. Insert the flowers into the florist's foam, all around the votive.
Add the Candle
Place a rose-scented candle inside the votive and light when desired. This is a nice candle centerpiece for a romantic dinner on Valentine's Day, or any other special occasion.
Variations: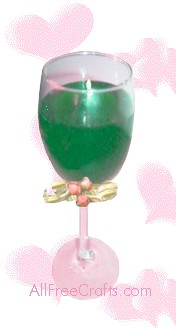 If you would prefer to use fresh flowers instead of silk, use a clay pot and saucer and florist's foam designed for use with water. Leave longer stems on the flowers. Wet the foam and insert the roses; replenish water as needed and remove the flowers as they fade.
If you like to make your own candles, try this Rose-Scented Candle by Simple in the Country which uses soy wax flakes, a weighted wick and rose-scented candle oil.
You may also enjoy our own Victorian Votive Candles which are very easily made from lacy pre-made doilies and glass votives or these pretty Wine Glass Gel Candles, shown at right.