Last updated on February 23rd, 2020 at 03:41 pm
How to Sew a Gingham Egg
by Jane Lake
Gingham is such a cheerful fabric that it seems a natural for this little sewing pattern. However, I do think all kinds of fabric could be used – calicoes, stripes, or felt, for instance – to produce a wide range of textures and effects.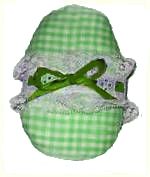 A fabric egg also lends itself to all manner of decorations. Here, we used a length of lace, threaded with ribbon which was tied in a bow. But sew on whatever you have handy – sequins, buttons, rick-rack, pearls or embroidered motifs.
Caution: If you are making this as a gift for a baby or toddler, make sure the fabric, stuffing and any embellishments are child-safe.
Sewing Instructions:
Print out the egg pattern, or draw an egg-shaped pattern to your own dimensions. If printed to the original size, the egg pattern provided here should be about six inches high and four and a half inches wide.
Fold a piece of gingham with right sides together. Trace the egg pattern onto one side of the fabric. Cut around the pattern, through both layers of fabric.[xyz-ihs snippet="AFCembed"]
Keep the egg shapes with right sides together, and sew all around, using a half inch seam, reversing a few stitches at the beginning and the end of the seam to secure it. Leave a two inch opening on one side to stuff.
Turn the egg right sides out and stuff with fibrefill.
Hand sew the opening closed.
Decorate as desired.