Last updated on December 25th, 2015 at 11:48 pm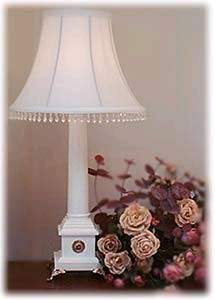 Pin
Revamp a Lamp
Wait!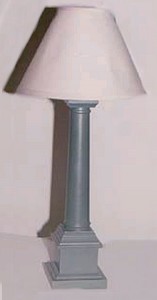 Pin
Don't throw that tired, old lamp away – turn it from trash to treasure with these easy recycling craft project techniques.
 Craft Supplies:
Wood Lamp base of choice – I used an old lamp that was originally purchased at Ikea a long time ago
White Paint
Decorative Button
Super Glue or Household Goop
Fine Sandpaper
Brass Corner Feet (optional)
Lamp Shade
Decorative Beaded Trim
Hot Glue Gun and Glue or Fabric Glue
[xyz-ihs snippet="AFCembed"]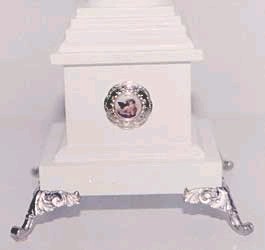 PinInstructions:
Gently sand the lamp base to remove dirt and create a little rough surface for the paint to adhere.
Wipe away any dust particles and paint your base with white paint. Allow the paint to dry. You may need to apply a couple of coats of paint for complete coverage. Be sure to allow each coat to dry before applying the next.
Using Super Glue or Household Goop (Goop is my preferred glue), attach the legs/feet as shown in photo. These feet are a little difficult to find. I removed these from an old jewelry box.
Using cutters, cut the button loop off of the back of the button and glue the button in place as shown in photo.
I used a store bought lamp shade. To add the beaded trim, hot glue the ribbon of the trim to the inside bottom of the shade. Use very little glue. Fabric Glue will also work for this if your shade is made of fabric.
Copyright © 1999-2015 Susan Spatone All rights reserved.
Published with permission from CraftAtHome.com