It's such a shame to throw away useful little boxes that come into your home holding soap, beauty products or food stuffs. Save a few to make recycled cardboard gift boxes for Christmas or special occasions.
This project is both easy and rewarding; it also shouldn't take too much of your time. From disassembly to reconstruction, you should have a gift box or two ready for use in less than half an hour.
To make tiny boxes, see Folded Gift Boxes from Christmas Cards for a printable template and how-to's.
Supplies and Tools
small boxes made from thin cardboard that are easily folded (for example, a soap box)
glue – I've used both spray adhesive and Aleene's Tacky Glue
paper napkin, scrapbook paper or gift wrap
newspaper
scissors
paring knife
Optional: ironing board and iron
Recycled Cardboard Gift Boxes – How-to Instructions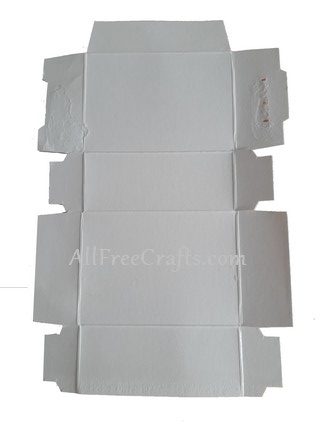 Select a thin cardboard box like the example shown, which is a Dove soap box, and carefully unfold the ends.
The ends of the box, and sometimes one side, will either be folded and tucked in by tabs or they are glued in place.
If your box is glued together, use a knife to slip between the glued cardboard sections and carefully pry them apart.
Look inside the box to see where the sides are attached. Many boxes have one side glued down. Use the knife to separate any glued tabs and unfold the box.
Separate a Paper Napkin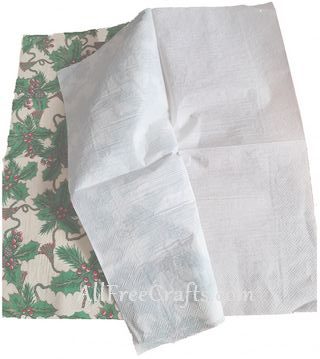 If you are covering the box with a paper napkin, you need to separate the tissue layers. This is tricky at first but begin at one corner and pry apart the layers as best you can.
Paper napkins can be two or three-ply, meaning they can have two or three layers.
Don't do what I did at first, and pull off just one backing layer, thinking you're done. You'll more than likely find another layer clinging to the patterned front.
What you're aiming for is removal of the front of the napkin from all its backing layers. Once you have a corner lifted, it is relatively easy to pull apart them apart. If you have trouble, try rubbing the corner gently between your fingers. Or try another corner.
Test Fit and Glue
Test the fit of your unfolded box against your decoupage material – pretty paper, gift wrap, or the front layer of a paper napkin. If the paper is badly creased, or has hard fold lines that won't ease out, iron it first underneath a sheet of newspaper until smooth.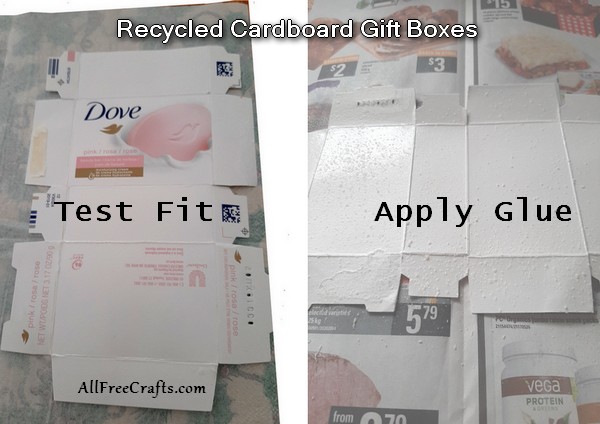 Spread newspaper over your work surface and apply glue to the opened up box. I used spray adhesive on the soap box, and tacky glue on a yogurt box, but any sort of glue meant for paper should be fine.
A word here on which side of the box to glue: I felt that the Dove logo and illustrations would show through my decoupaged paper napkin. The solution was applying glue to the un-printed side and, after applying the napkin, folding the box back together inside out. Worked well!
Applying Paper to the Cardboard Box
There are two ways to go when it comes to applying your pretty paper to the now sticky box template.
It's easier to lay down the paper napkin, plain side up, then slowly apply the sticky side of the soap box to the flat napkin. Once applied, flip it over and smooth down the napkin with your fingers, ensuring it adheres firmly, particularly at the edges.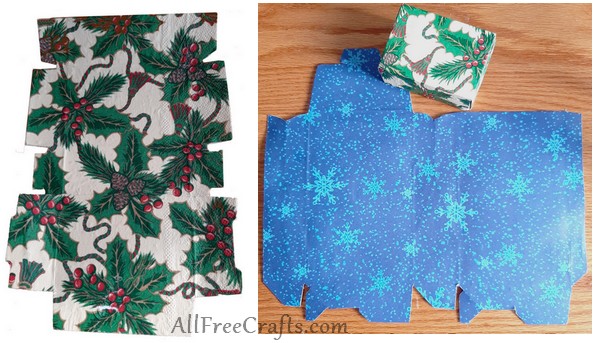 For the stronger gift wrap, try the opposite: lay the unfolded box flat on the table, glue side up, then slowly lower the gift wrap, plain side down, until both layers stick together. Flip over and smooth down the paper, working from the center to the edges, until the whole surface is secure.
Cardboard Gift Box Assembly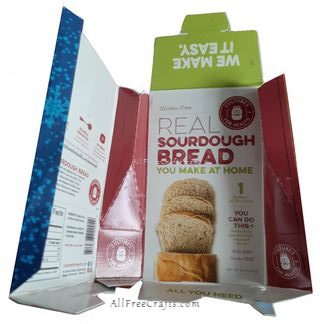 For boxes that you are turning inside out, trace over the fold lines with the rounded tip of your scissors, the end of a blunt knife, or even trace over them with a pen, pressing down firmly. You are just reinforcing the area of each fold so assembly of the box goes smoothly.
Each box will be different but simply follow the fold lines and apply a little glue to any tabs that must be made secure.