Last updated on November 29th, 2019 at 10:35 pm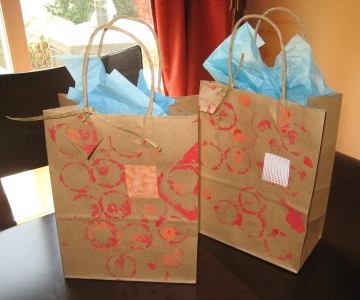 Pin
Hand Painted Gift Bags for Kids to Stamp
When I first saw this art project idea to make unique hand-painted gift bags, I thought it would be a great way for children to prepare for Christmas gift-giving. But these homemade bags are appealing for almost all special occasions, so you could try this with your kids at any time.
The project demonstrators had a fun time printing their bags with plastic bottles and bright red paint – and so did Mom. The supplies you need for this art project are things you might already have around; if not, they aren't very expensive. Preparation is pretty simple, which means clean up can also be streamlined and efficient.
How to Make Hand-Painted Gift Bags
What You Will Need: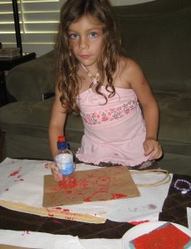 Pin
Red tempera paint on a wet sponge is our stamp pad.
– plain gift bags
– one or two colors of washable tempera paint
– tissue paper
– plastic bottles
– sponge
– plate
– scissors
Supplies for Homemade Gift Tags:
To make tie-on gift tags, you will need small pieces of cardboard, a paper punch, and paint or a small piece of patterned paper.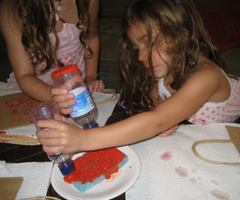 Pin
To make window gift tags, you will need an adult (to use an exacto knife), plus tape and patterned paper
Craft Project Instructions:
1. Lay the bags on your work surface.
2. Place the sponge on a plate and pour a generous splotch of paint over top to make a stamp pad.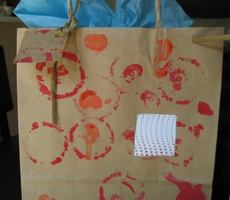 Pin
3. Change the paint color, if desired, then turn the bottle over and begin stamping small circles using the bottle cap.
Make a Gift Tag
You can choose to make a cardboard gift tag, or to cut an opening in the bag to make a little covered window gift tag area.
Cardboard Gift Tag
Cut a small piece of cardboard to use as a gift tag and glue patterned paper to the front, or paint it to match the bag. Paper punch a circle in one corner of the tag and tie it to the bag handles with some curling ribbon.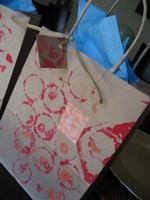 Pin
Window Opening Gift Tag
Have an adult use an exacto knife to cut a square opening in the side of the gift bag. Tape patterned paper inside the bag so that it covers the back of the window and shows through the opening. Use this area as a gift tag.
Fill Your Gift Bag
Fill the bag with tissue paper and then you are ready to place a gift in your unique, hand-painted gift bag.
Thanks to the girls from Flipflop and Applesauce for showing us how to make these hand-painted bags!