Last updated on April 4th, 2021 at 11:39 pm

Recycle a large dog food bag and make yourself a roomy shopping tote in three easy steps.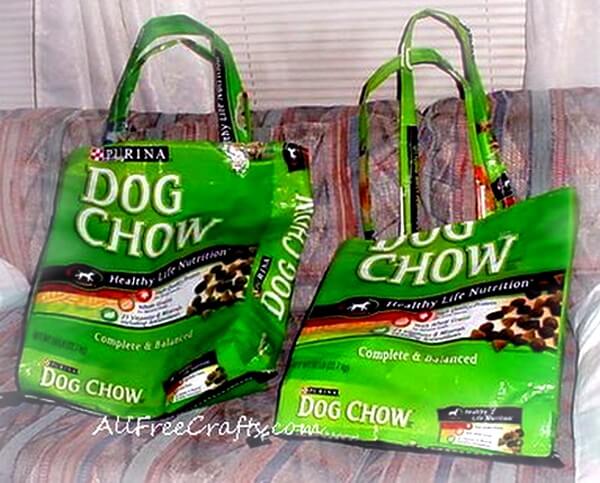 Here's a different kind of doggie bag – it's a very sturdy tote, recycled from a large-sized dog food bag, that is perfect for shopping excursions when you expect to bring home a lot more than leftovers.
Hand wash the bags with soapy water, then rinse and dry thoroughly before beginning this project.
By Beverly Watkins
Craft Supplies:
50lb dog food bag with strong sides (emptied and thoroughly cleaned on the inside)
sewing machine
strong sewing thread
scissors
How to Make a Shopping Tote from a Dog Food Bag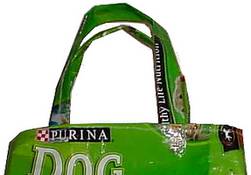 1. Cut straight across the top of the bag, at the height that you want for your tote bag. Fold over a 1/4 inch hem and sew with a zigzag stitch all around.
2. Cut two strips, each three inches wide, from the scrapped part of the bag. Fold over the first strip, lengthwise, then fold again. Sew together with zigzag stitch, all along the length of the strip, to make a handle.
Repeat with the other three inch strip to make a second handle to match the first one.
3. Decide where you want to position the ends of each handle and mark the bag on the inside. Sew each end of the handles to the top of the bag, zigzagging back and forth to create a strong, unbreakable bond.
This is an eye-catching recycling project that is sure to get comments as you pack your shopping in a doggie bag. Maybe your tote will inspire someone else to make their own. Smile. 🙂