Last updated on October 16th, 2015 at 09:57 pm
How to Dry Flowers in the Microwave using Kitty Litter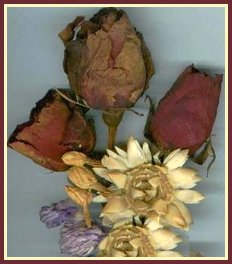 Pin
by Jane Lake
Drying flowers for use in wreaths or floral arrangements is a satisfying nature craft, made easier and faster with the use of kitty litter and your microwave. All you need is a microwavable bowl, dustless cat litter and an assortment of roses, daisies or other fresh flowers.
[xyz-ihs snippet="AFCembed"]
Supplies:
4 or 5 cups of dustless cat litter
spoon
microwavable bowl with fairly deep sides
assorted fresh flowers i.e. roses, primula, pansies, snapdragons, cornflowers, statice, or larkspur.
Instructions:
1. Pick an assortment of flowers at a time of day when the flowers are dry, not wet with dew or rain.
2. Bring the flowers indoors and separate into individual flowers. Check for and remove any insects that may be hiding inside the petals or leaves.
2. Put 4 to 5 cups of dustless cat litter in the bowl.
3. You should dry the flowers either singly or in pairs, as doing many more may cause the flowers to burn. For each flower, scoop out an area of the cat litter and gently place the flower in the hollow bed. Spoon cat litter over the flower until it is completely covered. Be gentle and try to maintain the flower's original shape. Repeat if you're doing pairs, making sure the flowers don't touch.
4. Microwave on High for 2 minutes. You may have to experiment a little to find the exact time that works for your microwave. The litter should be hot to touch when you take it out. Let it cool completely before removing flowers as they will still be in the process of drying.
5. Carefully blow away, or dust off with a small dry paint brush, any cat litter that remains clinging to the flowers.
6. You can spray the dried blossoms with unscented hairspray to help them keep longer, then arrange in vases or wreaths.