Last updated on October 16th, 2015 at 09:49 pm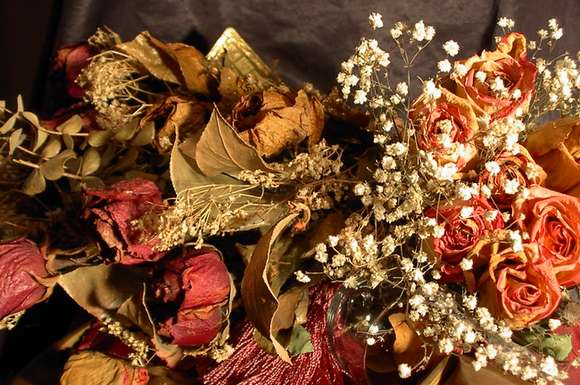 Pin
How to Air Dry Flowers
By Jane Lake
The art of air drying flowers for use in homemade dried flower arrangements has been practiced for centuries. It is a simple art, yet dried flowers can be arranged just as beautifully as fresh bouquets in vases, containers or even shadow boxes. They also, of course, make excellent garlands, swags and wreaths.
Here we explain air drying methods to preserve flowers for floral arrangements and decorations, including the hanging method, flat method and upright method. We also have storage tips for dried flowers and suggestions for interesting additions to your floral arrangements.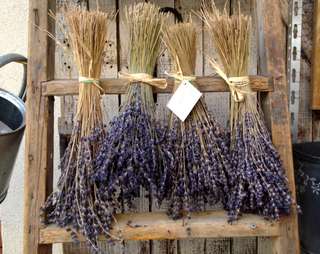 Pin
Drying your own florals is not only great for decorating and floral arrangements, they look great while drying too. Find a dry place to hang a peg board and display your florals with a little raffia or jute tied around the stems while they are drying.
Hanging Method of Drying Flowers:
Select florals that are almost in full bloom and remove any damaged petals. Remove some of the lower leaves, and wrap a small bunch of florals together with twist ties and over the twist tie, wrap a piece of raffia or jute around and tie in a bow. Hang your florals to dry completely and you can even just leave them hanging to look extra pretty.
Air Drying Flowers, Herbs and Foliage by Hanging Upside Down
The procedure for air drying flowers and other plants by hanging upside down isn't complicated, but these hints will help ensure good results:
— Remove leaves and heavy foliage from the stem below the flower. Some flower stems, such as those on centurea, strawflowers or zinnias, weaken when dried and should be replaced, before drying, by wires.
— You can use wire to promote a curved stem. Simply insert florist wi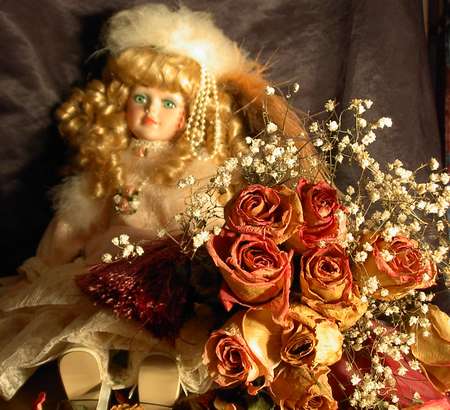 Pinre into the flower head then twist around the stem a few times. You can now use the wire to bend the stem in the shape that you would like it to have once dry; leave the wire in place for added strength.
— Arrange a bunch of stems together and fasten toward the end of the stems with a rubber band, twine or even clothes pegs. Try leaving some bunches hanging straight down; gently fan out the stems on others to provide an assortment of straight and curved stems.
— Suspend the flower bunches from nails, lattice or hooks in a dry, dark, warm place such as an attic or basement. Keep away from direct sunlight, which can fade the flowers, and choose a spot that offers good air circulation.
— Suspend larger flower heads, such as peonies, as single specimens for optimum drying. See how to dry hydrangeas for specific directions on preserving these large, showy flower heads.
— Check your flowers often; some flowers will dry in as little as three days while others will need three weeks. Touch the flowers ; if they are dry and rigid, and rustle when you move them, they are ready to be moved to a dry, cool location.
Flat Method of Drying Flowers:
Some florals don't dry well by hanging and do better with a flat method of drying.  You will need some floral wire and tape to add the stems back once your florals are dry.  This type of drying is good for carnations, daisies, mums, etc.
You will need to make a box with a little chicken wire to hold your florals.   Any box will do and just add a piece of chicken wire or something similar to the top of the box.
The openings in the wire must be large enough to accommodate the stems of the flowers.  To dry, cut the tops of your florals, leaving about 1-2 inches of the stem attached (this makes it easier to attach floral wire and tape once they are dry).  Place your flowers on top of the wire allowing the stems to fall through the holes. Once they are completely dry attach a piece of floral wire with floral tape to extend the stems.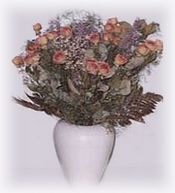 Pin
Upright Method of Drying Flowers: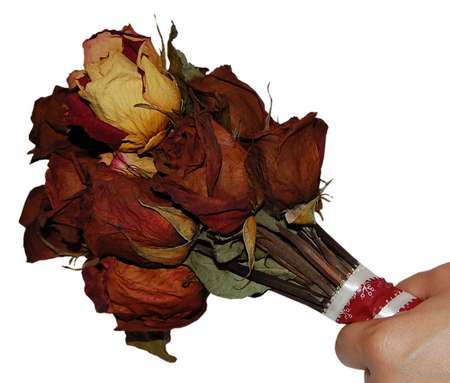 Pin
Some florals can be left in a container or vase to dry. Baby's breath, statice, tall grasses, eucalyptus, etc can be dried by just leaving them in an empty vase until they dry completely.
Air Drying Flowers in Water
Yes, I know that it sounds like a contradiction in terms, but it can be done.
Many flowers will dry out very well if left to stand in a vase of water; you may already have experienced this in your own vases of mixed garden flowers. Granted, the process is slower, but this way you can enjoy the fresh flowers first, then observe the process as the flowers gradually lose moisture, change color, and dry out completely. This method is especially useful for a bouquet that has been purchased from a flower shop as flowers dried this way may keep the shape of the original arrangement with stems curving outward in an appealing fashion.
Garden flowers that I've dried successfully in water include perennial baby's breath (gypsophilia), carnations, coral bells, black-eyed susan, dahlias, purple coneflowers, rosebuds, roses and yarrow.
At a certain point, of course, you must stop exchanging or topping up the water in the vase and just let the flowers use up what is left, or toss out the water completely, cut off the bottom of any soggy stems, and let the flowers finish the preservation process standing upright in the dry vase. This will allow the stems to firm up enough to support the dried flower head.
Protecting Dried Florals:
This is easy – once your florals are completely dry, just spritz a little cheap pump style hairspray on the entire floral. You can purchase products designed specifically for dried florals, but I have found hairspray works just fine.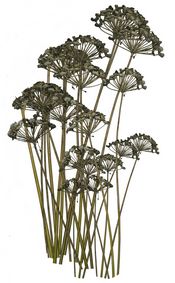 Pin
Storing Your Dried Florals:
Storing your floral stems is very important. You've taken the time to dry them perfectly and tossing them in box will damage them. Here's some helpful hints for storing; wrap small bunches of the same flower in tissue paper and tie the tissue closed with a little string or raffia. Store them in box, stacking them very carefully rotating the floral ends. Your local florist may even provide you with a floral box and these boxes are perfect for storing your dried florals.
[xyz-ihs snippet="AFCembed"]
Interesting Additions to Dried Floral Arrangements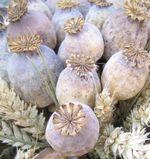 Pin
Remember that native grasses, grains, seedpods, berries and cones can be readily gathered in the fall, when many have already dried on the stem. If you need to complete the drying process, just follow the steps outlined above. Dried seedpods such as poppy heads, milkweed or the "cones" from purple coneflower are sought after by florists and will make interesting additions to your homemade dried floral arrangements. Stems of golden wheat, reed grass, rushes, teasels and dried berries are also useful for decorating wreaths and swags.