Last updated on January 26th, 2021 at 12:57 pm
Here's how to make a footprint love bug art project with your child, perfect for gift giving on special occasions such as Valentine's Day.
My little granddaughter, with lots of encouragement from mom, made the awesome footprint art gallery shown here. I couldn't be more proud of her!
Even your youngest child can put their foot down for this one, so it's a natural for babies or toddlers.
How to Make a Footprint Love Bug
How to make a footprint love bug art project with your child, perfect for Valentine's Day or Mother's Day.
Materials
a child 
black felt tip marker or pen
paint
paint applicator (see Tools)
paper
patience (see notes)
Tools
I didn't include a specific paint applicator in the supplies because it could be any number of things. If your child has ticklish feet, I'd say don't use a paint brush, but a small soft rag, paper towel or sponge might work.
Alternatively, you can cover a shallow dish with a generous coating of paint and have your child step in it. After that, move quickly to the next step.
Instructions
Spread out the paper that you've chosen for this project. If it's more than one piece of paper, put all the sheets close together on the floor.

Apply paint to your child's foot (see above for options on how to do this).

Once you've got paint on the sole of your child's foot, it's time to make a footprint. Try to get the footprint in the center of the page, but if it's off a little bit, don't worry about it. The important part is to have some fun working together with paper and paint (and patience). Repeat for each new footprint.

Dry off your child's foot and wait for the painted footprint to dry.

To turn your art project into a footprint love bug, add thin black legs on either side of the body and two antennae on top of the heel for the head.

To finish off, write a personal message for the occasion and either set aside, or roll it up as a Valentine scroll for gift giving.
Notes
The patience comes in handy when you're trying to keep the paint on the child until it can be transferred prettily to the paper. Smile.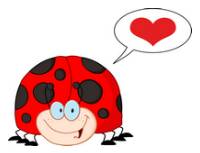 Pin