Last updated on March 1st, 2018 at 10:23 pm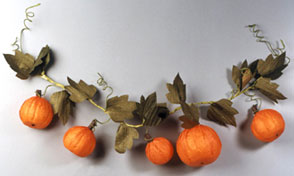 PinPick-of-the-Patch Pumpkin Garland
Designed by Kathleen George
Typical Project Completion Time: 2-4 hours
(does not include drying time)
[xyz-ihs snippet="AFCembed"]
MATERIALS NEEDED:
STYROFOAM* Brand Products:
Balls, assorted 2-1/2″, 3″, and 4″
Other Materials:
Tissue paper, orange
Twisted paper ribbon, olive green
Floral tape: dark green; light green
Green floral wire
Tape measure
Rubber bands
Fine-line black marker
Craft knife with sharp blade
Pencil
Masking tape
INSTRUCTIONS:
1. Press each foam ball firmly on a flat work surface to flatten bottom.
2. Mark center top and bottom of each ball. Refer to diagram to divide each ball into six equal sections by placing three rubber bands around the foam, crisscrossing them at top and bottom. Mark sections with a fine-line marker.
3. Using a craft knife, cut a V-shape groove approximately 3/8″-1/2″ deep at each mark, forming pumpkin ridges. Rub cut edges of foam with a pencil to smooth.
4. Neatly wrap orange tissue paper around a foam pumpkin to cover, bringing edges of paper to center top. Tightly wrap masking tape around excess paper at top to create a stem and then trim stem at an angle. Press tissue paper into ridges with your fingers for added definition. Repeat for each pumpkin.
5. Wrap pumpkin stems with dark green floral tape. Glue and insert a 6″ wire into foam next to each stem. Curl wires around stems for vines, letting them extend at top.
6. Bend an 18″-24″ length of wire in half. Twist wires together two times 3″ from center to form a hanging loop for garland.
7. Overlap another wire onto ends of wire loop and wrap with light green tape to begin forming garland. Continue wrapping with tape approximately 8″ or to end of overlapping wires.
8. Attach pumpkin to garland by wrapping vine around wire (refer to photo). Wrap top of vine around your finger or a pencil to curl. Wrap tape around garland where pumpkin is joined for reinforcement.
9. Continue wrapping wire garland with tape, adding pumpkins evenly spaced. Extend garland with additional lengths of wire as needed.
10. Follow Step 6 to add a wire hanging loop to opposite end of garland.
11. Untwist and flatten paper ribbon. Using pattern, cut desired number of leaves from paper ribbon. Add leaves individually and in clusters to garland by wrapping short lengths of floral tape around their base.
*Trademark of The Dow Chemical Company
Project reprinted courtesy of The Dow Chemical Company, Manufacturer of Genuine STYROFOAM(R) Brand Foam.
For more free project ideas, please visit www.styrofoamcrafts.com