Last updated on September 5th, 2015 at 01:02 am

Pin
Ten Thrift Store Halloween Costume Ideas
By Jane Lake
Thrift stores are the perfect place to buy clothing for Halloween costumes. The prices are affordable and the selection usually wide enough for bountiful creativity. Some thrift stores carry Halloween accessories as well, so you may pick up everything you need for the following costumes in one quick, economical shopping trip.
Here are ten ideas for Halloween costume get-ups that begin in your local thrift store: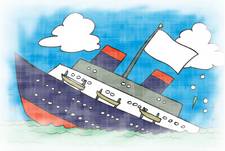 PinTitanic Survivor
Pin plastic seaweed and fake aquarium plants to your clothes and wear long strands in your hair. Shred the arms and pockets of an old shirt, overlay with a shredded vest and wear over tattered trousers or a long skirt with a torn hem. Wet look fabric is a bonus. Make a long necklace or belt from a thick length of hemp rope; unravel the rope ends for best effect, and attach a toy sailboat. Hot glue polished pennies or fake gold coins (bags of gold chocolate coins are great) in strategic places. A fake fish or two sticking out of a pocket completes the ensemble.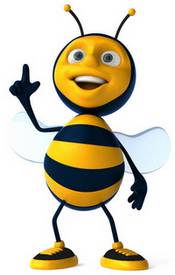 PinVariations: Titantic Passenger – Wear the costume described above, but add ghost or skeleton face makeup or masks.
Bee Movie Star
Make bee antenna by hot gluing small black pom poms to black chenille stems, then hot glue the antenna to a black head band. Wear a yellow top with black tights or leggings; padding the top is optional, but you'll need to add stripes with black tape. If you're going all out, paint your face yellow with large black circles around your eyes.
Bee Keeper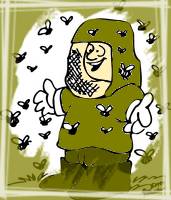 PinDress in khaki clothing and a wide brimmed hat. Attach netting around the hat brim. Glue fake bees all over the hat  and clothes. If you have children accompanying you, dress them as bees.
Pest Exterminator
Wear old clothes and a wide brimmed hat with netting around the brim. Glue fake bugs, spiders, mice and rats to the
clothes and hat; if desired, add a mousetrap complete with a fake trapped mouse. Carry a net or a spray bottle filled with water and labelled "Pesticide" to complete this thrifty costume.
Hershey's Kiss
Start with a long, baggy sweat shirt with a ribbed hem that pulls in fairly tightly around the bottom of your hips. Pad the shirt in the shape of a Hershey's kiss and cover with strips of aluminum foil tucked in and stapled or glued at the hem and neck. For a French Kiss, add a French beret.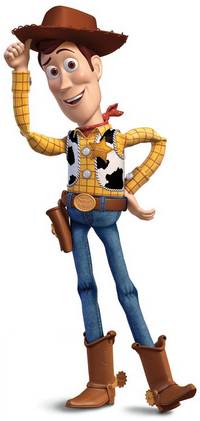 Pin
Toy Story Woody
A yellow, or yellow-plaid shirt, overlaid by a black-and-white cow patterned vest, is the signature look for this Toy Story cowboy. Buy a short black or white vest and paint on contrasting patches in a random black-and-white pattern; wear over a yellow shirt. Add bright blue jeans or
blue pants, thrift store western-style cowboy boots, and a brown or red straw cowboy-style hat. Tie a red bandanna around your neck, and add a western style belt or toy gun holster.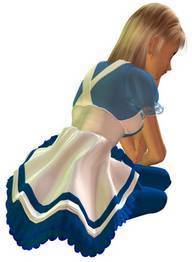 Pin
Alice in Wonderland
For Alice, you will need a light blue dress with a full skirt, overlaid with a white apron. Wear an extra large black bow in your hair and white ankle socks with black shoes.
Mad Hatter
Make or buy a top hat for the Mad Hatter, then attach a playing card or two to the hat brim. Buy a long, pocketed jacket at the thrift store – in plaid, or the brightest color you can find, and a vest in a contrasting color. Make a huge bow tie from a rectangle of bright patterned fabric cinched together in the middle and wear it around your neck.
Gulliver and Lilliputians
Buy a white, ruffled shirt with long, full sleeves. Cut long pant legs off six inches below the knee; cinch just below the
knee with a circle of elastic. Wear long white knee socks, overlapped by the knee breeches. Make old-fashioned shoe buckles
by cutting out two rectangles of cardboard with two rectangular holes inside; cover with gold foil or paint gold. Finally, run
thin rope over your shoulders and around your torso; attach small doll figures to the rope as Lilliputians trying to tie you down.
Dog's Dinner
This one doesn't require any shopping at all – you just need a very large, empty dog food bag. These come in jumbo sizes to fit an adult; smaller sizes would work for children. Wear a brown or black track suit. The top of the bag will probably be cut right across; if not, cut a straight line as close to the top as possible.  Cut leg holes in the bottom of the bag.  Make suspenders to go over your shoulders from transparent tape or ribbon. Hot glue the suspenders to the top of the bag.  Wear a couple of bone shaped cookies in your hair.