Last updated on September 5th, 2015 at 01:03 am
by Rose Smith
A chill is in the air and the leaves are beginning to fall from the trees. Children are back in school, but there's only one thing on their minds….Halloween is coming. "What am I going to be this year?" they wonder.
As usual, parents will be dragged to the mall to check out all the latest and greatest in Halloween costumes. Some will opt to make their own. In either case, here are some costume tips and easy Halloween makeup recipes to help make your child's Halloween safe and fun.
[one-half-first]
Halloween Makeup Recipes
Corn Syrup Blood

16 oz. White corn syrup
1 oz. red food coloring
1 oz. washing detergent
1 oz. water
A drop of blue food coloring
Mix the ingredients together and voila – blood. Remove the washing up liquid if you want to make edible blood. Adding condensed milk makes it less transparent and more like real blood. The blood is extremely sticky and can stain skin and clothes so makes sure it is washed off quickly. Use a stain remover on clothes.
Face Paint Recipe
1 tsp corn starch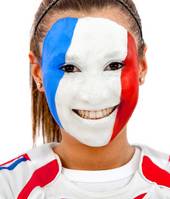 Pin
1/2 tsp water
1/2 tsp cold cream
2 drops food coloring as desired
Mix ingredients and apply smoothly with fingertips to face.
Clown Make-up
2 tsp white shortening
5 tsp corn starch
1 tsp white all purpose flour
glycerin as directed
Food coloring as desired

Mix together the shortening, corn starch and flour.  Add 3 to 4 drops of glycerin to make the mixture creamier.
Apply.
About the Author: Rose Smith is the owner of HalloweenHowl.com and author of several ghoulish party ebooks. Designed for "trick or treaters" of any age, we invite you to come visit.
[/one-half-first]
[one-half]
Costume Safety Tips
If purchasing a costume from a store, make sure the label states that it is made from a fire-retardent material. If you're making your own costume, be sure to pick materials that are also fire-resistant.
Costumes should be loose enough around the body so that warm clothing can be worn beneath it without it being too loose that it snags on items.
Have your child try the costume on a few days before wearing. Make sure that it does not drag on the ground.
Pants and robes should be hemmed up so that your child's feet are showing. Tripping and falling is the leading cause of accidental injuries on Halloween.
As much as we'd love our children to wear light-colored clothing, some costume themes (vampire, witch, etc.) just wouldn't look right in florescent yellow. Instead, add strips of reflective tape to the front and back of all costumes, including their trick or treat bag. Remember, children don't drive cars, therefore they do not have any idea on how long it takes a driver to stop a car after they see the child. The sooner a driver can see your child, the safer your child will be.
Make sure the costume is easy to get out of. Preferably, it should close with snaps or velcro strips. If you must use zippers or buttons, make sure they are located in front of the costume and easily reached by your child.
Children should wear well-fitting, flat shoes, not high heels.
Wigs and beards should fit properly and should not cover ears, nose or mouth.
Use makeup instead of a mask. Masks obstruct vision and children find it hard to breath when wearing them.
If your child insists on wearing a mask, make sure it has large eye openings (cut them bigger if you have to), and openings for the nose and mouth.
When purchasing makeup, make sure it is labelled non-toxic. However, some children (and adults) break out in a rash with the heavy petroleum-based makeups on the market. So, I've included some homemade recipes below for those of you who would like to create their own Halloween makeup.
Props and accessories should be made of a flexible material. They should not be rigid, sharp or overly heavy.
Sew a name tag into your child's costume, giving their name, address and phone number.
Remove makeup with shortening, cold cream or baby oil and tissues. Thoroughly wash face with soap and water after removal.
[/one-half]