Parsley is more than a pretty garnish for meat or fish; it's also an excellent source of Vitamin K and Vitamin C, and a source of Vitamin E, Vitamin A, Folate, Calcium and Iron.  Delicious, nutritious and easy to grow, parsley has been cultivated in herb gardens for centuries.
Here you'll find out how to grow and use parsley, including propagation and cultivation, plus some time-honored home remedies using parsley and delectable parsley dishes.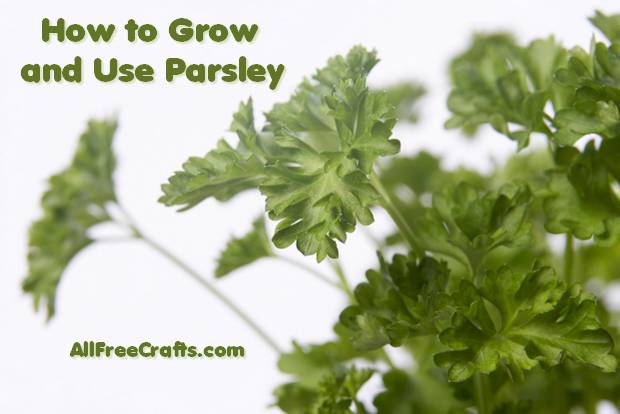 Pin
The Basics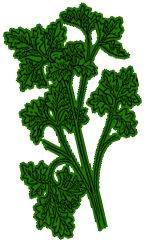 Rich, green, fern-like foliage makes parsley an attractive plant for growing in an outdoor herb garden, in a border between flowers, or indoors on a sunny windowsill.
Technically a biennial, parsley is usually grown as an annual, from seed, or from plants purchased at your local garden center.  The two most common varieties for culinary use are curly leaf parsley (Petroselinum crispum var. crispum) and Italian flat leaf, or broad-leaf, parsley (Petroselinum crispum var. neopolitanum).
Growing Parsley
From Starter Plants
I prefer buying parsley, already started and thriving, from a nursery or garden center. Six small plants are ample for my family, with plenty left over at the end of the growing season for freezing or drying. Although many gardening experts say that parsley doesn't like transplanting, I find that a six-pack of starter plants does well in my garden if I plant them out in late May, when the soil is warm but the weather not yet too hot, in a spot that is sunny in the morning and shaded by late afternoon. This is a flower border, so I set the plants in between clumps of dwarf iris and marigolds or other bright annuals. Mulching is a must, because I'd never keep ahead of weeds without a layer of wood chips; this also keeps the soil moist between rains or watering.  If you're setting the plants in a row, space them eight to ten inches apart. Parsley will grow about 18 inches high.
Parsley is also a good companion plant for mint or asparagus and works as an insect deterrent when planted near carrots or tomatoes.
From Seed
Parsley seeds can be started outdoors in early spring, or indoors, about four to six weeks ahead of garden planting. Germination is slow, taking at least three weeks and often more, with unreliable germination rates. You may improve matters by soaking the seed in warm water the night before sowing. Alternatively, try freezing the packet of seeds to break winter dormancy before sowing thinly, from 1/8 to 1/4 inch deep, either directly outdoors or in plug packs or pots filled with seedling soil mix.  Covering an outdoor seed bed with burlap will help keep it moist and dark until germination.
It's important to keep soil or growing medium uniformly moist. Once the seedlings have sprouted a second set of true leaves, prick out the weakest, leaving just one plant per plug or thinning outdoor plants to first three inches apart then about eight inches apart.
Seedlings started indoors need 12 to 15 hours of light and should be turned frequently if overhead light isn't available.
Gradually harden off the plugs or potted plants, leaving them outside for an hour or two at first, then increasing the time outside over a week or so until they can be transplanted in a permanent spot outdoors.
Prepare the planting bed for seeds, or for transplants, by digging and turning the earth, removing weeds, adding compost, breaking up clods and raking the soil to a fine texture.  This will allow tiny seeds or small transplants to sprout and root with the best chance for success.
Care
If your parsley gets too leggy, promote leafy growth by pinching back thinning tops. Remove dead or yellowing leaves and feed with high nitrogen fertilizer or side dress with compost once or twice throughout the summer.  Discourage flowering by pinching out any umbels before the greenish flowers appear.
According to Rodale's Illustrated Encyclopedia of Herbs, parsley is susceptible to crown rot, carrot weevils, parsley worms and nematodes.  Weevils, nematodes, and crown rot are best controlled by crop rotation and clean cultivation; parsley worms should be handpicked.
In the fall, allow a few plants to flower and go to seed, then gather the seed for cooking or next year's garden.  You can cut bushy outside growth from healthy plants, dig them up and try potting them for fresh parsley indoors all winter.  Place in a sunny window, keep moist and turn frequently for even growth.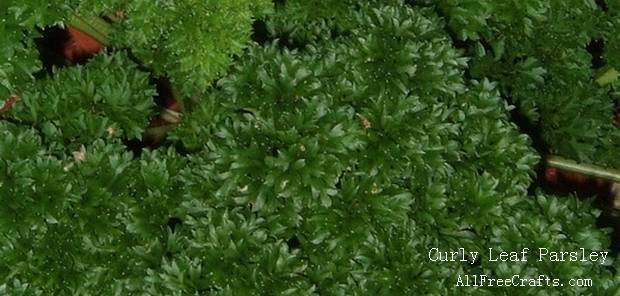 Pin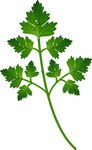 Harvesting and Storage
Harvest fresh parsley continuously by snipping outer stems; healthy plants will reward you by growing vigorously for weeks, even tolerating the first light frosts of fall.
Dry parsley by hanging bunches in a shady area.  When fully dried, crush the leaves by hand, pick out stems, and store in an airtight container.
Sometimes, I place a big bunch of dried parsley upside down in a brown paper bag, then I hold the neck of the bag tight around the stems and collapse the rest, grabbing and pressing the bag in various places all the way to the bottom.  Try it, and you'll find that, when you open the bag, most of the leaves have crumbled to the bottom.  Just remove the stems and transfer the parsley flakes to an airtight container and use as you would store-bought dried parsley.
Italian flat-leaf parsley has a slightly stronger taste and is therefore best for drying.  Both Italian or curly leaf parsley can be frozen whole or chopped, in freezer bags or containers, for a flavorful supply throughout the winter.
Uses of Parsley
Until the 1920's, parsley was listed in the United States Pharmacopoeia as a mild laxative and diuretic. Historically, parsley has also been used to bring on menstruation or alleviate menstrual pains, and also to induce miscarriage, despite its potential toxicity in large doses. Because of its diuretic effect, parsley was regarded as beneficial for alleviating water retention often associated with menstrual bloating, high blood pressure and heart failure. It has also been widely used to ease digestive ails, alleviate flatulence and cure urinary tract and bladder infections.
In some people, consuming or contacting  parsley can cause skin rash, hives, headache, nausea, dizziness, liver or kidney damage, or other unpleasant problems. Likewise, while most pregnant women are fine when ingesting parsley in food, they should avoid large or medicinal doses because parsley can incite or increase uterine contractions.
CAUTION: Always consult a doctor before consuming or using herbs for medicinal or cosmetic use.
Parsley in the Bathroom
Breath Freshener
With a fresh smell and mild, pleasant taste, as well as a high chlorophyll content, parsley has been used as a natural breath sweetener since Roman times: just chew a small sprig after eating or drinking.
Digestive Aid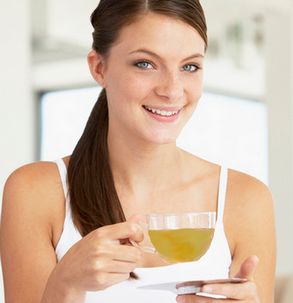 Pin
Drink parsley tea before meals to prevent or minimize gas or bloating. Use about half a cup of leaves, coarsely chopped, or a good handful of fresh parsley leaves and stems, or 8 teaspoons of dried parsley in teabags or a tea ball, to each four cup pot of boiling water, adjusting amounts to suit your own taste. Steep for about 10 minutes, strain out any particles, then sip the parsley tea before eating your meal. Lemon juice is sometimes added for taste variation.
Diuretic
Make a pleasant tasting infusion of parsley from two teaspoons of dried leaves, or one teaspoon of bruised parsley seeds, to one cup of boiling water. Steep for ten minutes and drink up to three cups a day to alleviate water retention.
Parsley Face Pack
Especially useful for oily complexion.  Rinse and roughly chop a large bunch of parsley; place in blender and add just enough boiling water to puree. Mix parsley puree with an equal amount of unflavored yogurt or egg white. Smooth parsley face pack on your face, avoiding eye area. Leave on for 15 minutes then rinse with cool water. Pat your face dry with a soft towel and apply moisturizer.
Relaxing Parsley Bath
Make a large, strong pot of parsley tea; strain into your bath and soak sore muscles away. Alternatively, add a few drops of parsley essential oil, or hang a muslin bag of fresh parsley in the hot water stream as you fill the bath tub.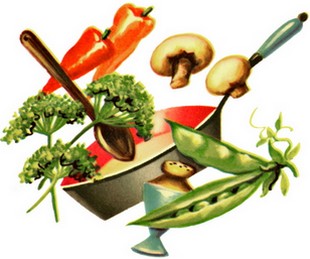 Pin
Anti-Dandruff Hair Conditioner
Add a strained pot of parsley tea to a jug of warm water and use for rinsing your hair after shampooing. Parsley is reputed to relieve itching, reduce dandruff, and promote hair growth.
Delicious Parsley Recipes
One of the world's most versatile herbs, parsley has a wonderful aroma and a distinctive, fresh, slightly peppery taste that makes it a natural seasoning for meat, fish, chicken, soups, salads, sauces and side dishes.
When using fresh parsley in cooked dishes add it toward the end of cooking for optimum flavor and color.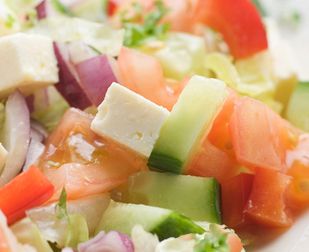 Pin
Tomato Salad with Parsley:  Chop fresh parsley with diced tomatoes, cucumber, red onion, red or green pepper and black olives.  If desired, add diced cheddar cheese or crumble feta over top.  Season with fresh lemon juice, sea salt and black pepper.
Parsley Dumplings:  Stir 1-1/2 cups of flour, 2 tsp baking powder, and 3/4 tsp of salt together.  Add 1 slightly beaten egg, 2 tbsp. melted butter or oil, 1/3 cup chopped parsley and about 2/3 cup milk.  Stir just until stiff batter forms.  Drop spoonfuls of batter into hot stew or soup, cover and cook for 15-20 minutes.[clear]
Pan Fried Fish with Meuniere Sauce:  Pan fry fish (sole, cod, haddock or other white pan fish) and finish with a delicious parsley herb butter. To make Meuniere sauce, melt 1/4 cup of butter over moderately low heat in clean frying pan for about 5 minutes until a nut brown color. Remove from heat and swirl in 1-1/2 tsps of lemon juice, 1 tablespoon of finely chopped parsley, pepper to taste and, if desired, 1 tablespoon of snipped chives. Pour over cooked fish and serve immediately.
Parsley Sauce: Basically, parsley sauce is a white sauce with chopped parsley added to it. I remember eating it as a child in England, when my mum served it over poached cod, haddock or halibut, with a generous splodge ladled over accompanying vegetables – often, if memory serves, new or mashed potatoes, carrots and fresh peas. Delicious over slices of boiled or smoked ham as well!
Here's my go-to Parsley Sauce recipe (adapted from an old Five Roses cookbook):
Melt 2 tablespoons of butter in a small saucepan over medium heat. If desired, cook 1/4 cup chopped onion in the butter until translucent, about 5 minutes.  Stir in 2 tablespoons flour, 1/4 teaspoon salt and a dash of pepper. Stir in 1 cup of milk and stir constantly until sauce is smooth and thick. Stir in 1 tablespoons of chopped fresh parsley. Sample sauce, and add more parsley to taste.  For variety, also stir in 1/4 cup grated cheddar cheese.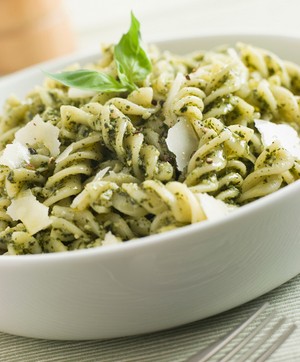 PinBasil Parsley Pesto:  Place 1 cup of snipped basil and 1/2 cup snipped parsley in the blender or food processor.  Add a pinch of sea salt; 1/3 cup pine nuts, walnut pieces or sliced almonds;  1/2 cup grated Parmesan or Romano cheese; and 1 to 2 cloves of garlic.  Pulse or blend briefly until a paste forms.  Gradually add 1/3 cup Extra Virgin Olive Oil, blending or processing between additions until the consistency of soft butter.  Refrigerate or freeze until ready to use.
Uses of Basil Parsley Pesto:  Toss with hot, cooked pasta; spread on pizza and top with sliced tomatoes, mushrooms, sliced olives and feta cheese; cut a loaf of French bread in half and spread both halves first with butter, then with pesto, sprinkle with grated cheese and bake loaf in the oven until cheese is melted.  Yummy!
~ by Jane Lake