Last updated on February 22nd, 2016 at 12:32 am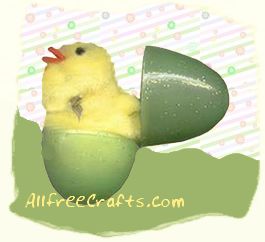 PinHatching Pompom Easter Chick
These little chicks look so cute and fluffy hatching from their Easter eggs that you might just want to make a whole family of them.
Craft Supplies:
4 Yellow Pompoms
-1 for body (2 inch)
-1 for face (1 1/2 inch)
-2 for wings (1/2 inch)
Orange Foam scrap or felt
Wiggly eyes, tiny black beads or buttons for eyes
Tacky glue (hot glue for the big kids)
Scrap ribbon piece
plastic egg, preferably with hinged opening
[xyz-ihs snippet="AFCembed"]
Craft Instructions:
Glue the face and body together. For the wings, trim away most of the fluff into a triangle shape.
Glue the wings with the pointed end of the triangle shape pointing out of the body.
Cut two triangle pieces from orange craft foam or felt and glue in place for the little chick's mouth.
Glue little black buttons, beads or wiggly eyes in place. Push the buttons into the fluff … you don't want the eyes to be too dominating.
Tie a little bow around the chick's neck. Place inside a plastic egg shell and you are all done!
Copyright © 1999-2016 Susan Spatone