Last updated on December 21st, 2022 at 01:12 am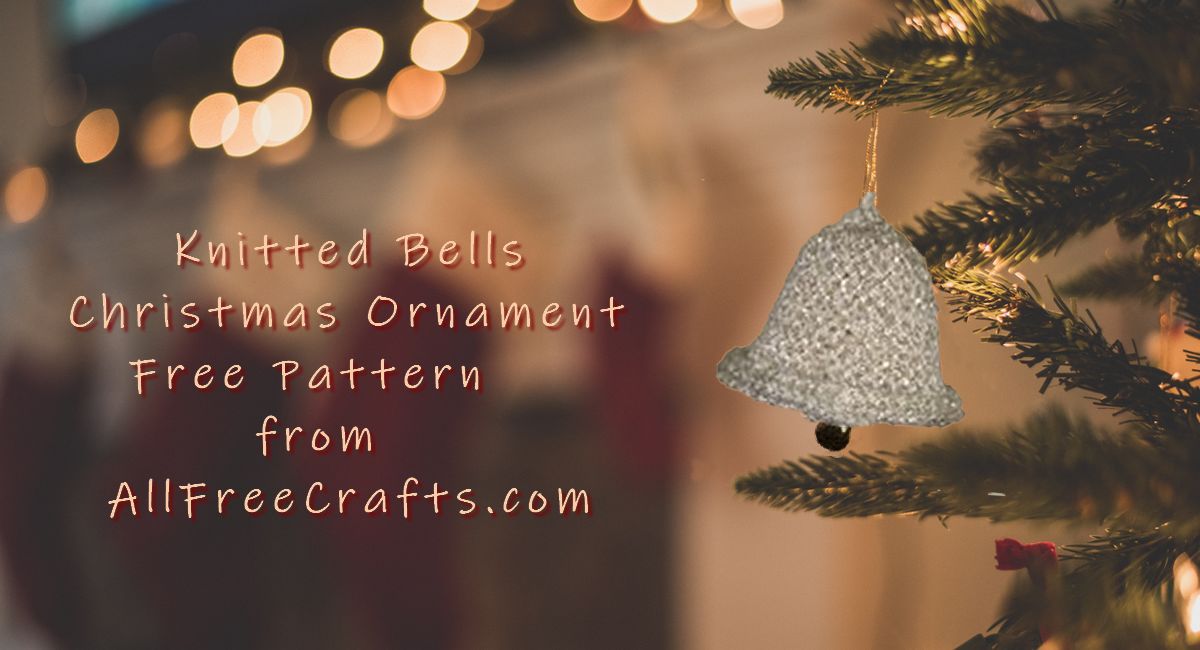 Free Knitting Pattern to Make Little Christmas Bells
The two Christmas jingle bells shown here can be made up quite quickly, and they both look lovely as a homemade ornament on the tree.
The lower bell, with the rolled brim, is the knitted version, and the free knitting pattern is included on this page. I love the way the edge of perl stitches just wants to roll up and form the bottom of the bell almost like magic.
We also have a free pattern to make the Crocheted Christmas Bells as well, so why not try them both? Or add a few charming knitted mini Christms trees as well.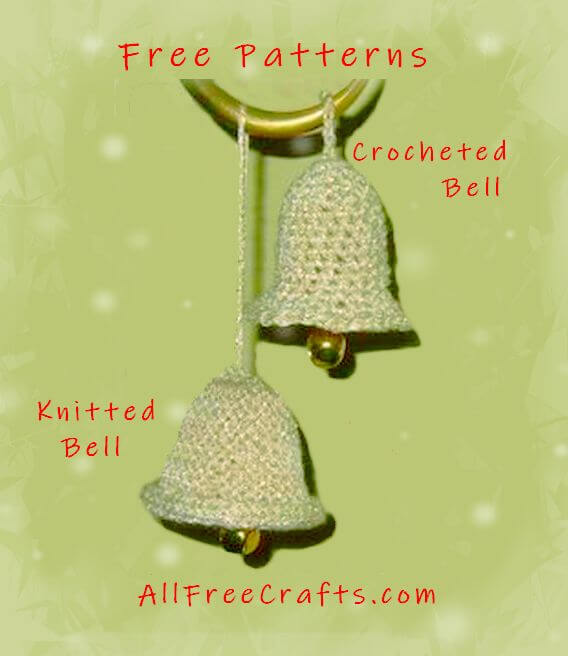 by Jane Lake
The samples shown were done in a worsted weight sparkling metallic yarn, but you could use finer yarn and smaller needles to make smaller bells. You can also adjust the length or circumference of the knitted bells, as discussed below.
These looked so pretty that I thought they would make lovely wedding bells, done in white, and attached to a wreath, door hanging or centerpiece.
Pattern Supplies:
Knitting needles – mine were inherited from my Grandmother, made in England, and stamped as Size 9, or 3.75 mm (U.S. needle Size 5)
Patons Brilliant Crystal Cream yarn
brass jingle bells
bodkin or yarn needle
Note: Photo at right is shown actual size on a desktop computer.
See: SheepandStitch.com for a handy printable knitting needle conversion chart.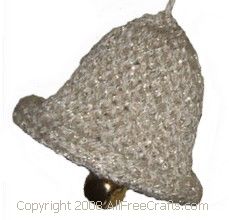 Pattern Instructions:
1. Cast on 15 stitches (to make the bell longer, increase this by 5 stitches).
2. Knit across first row.
3. Purl 5 stitches, and knit across remaining stitches.
4. Knit across row.
Repeat Rows 3 and 4 until you have at least 28 rows. (You can increase the number of rows if you'd like the bell to be rounder.) Cast off.
Thread a bodkin or yarn needle with a length of yarn and sew up the short sides (with right sides together). Turn right side out.
Thread bodkin with another length of yarn and sew a gathering stitch around top edge of bell. Pull yarn tight and tie off. Use end of yarn to form a looped hanger at the top of the bell.
With your fingers, roll the purl stitches up into a brim. They tend to curl out and up anyway so just encourage the process with a little rolling motion of your fingers.
Tie a piece of yarn to the top of a brass jingle bell. Secure this to the top inside of the knitted bell, so that the brass bell hangs just below the rolled brim.