Last updated on December 20th, 2020 at 09:27 am
A mini Christmas evergreen display is a perfect little gift that you can put together in under half an hour. Quick and easy to make from fresh sprigs of pine, cedar, spruce and boxwood, this tiny display smells like a Christmas tree and brightens an alcove in my dining room.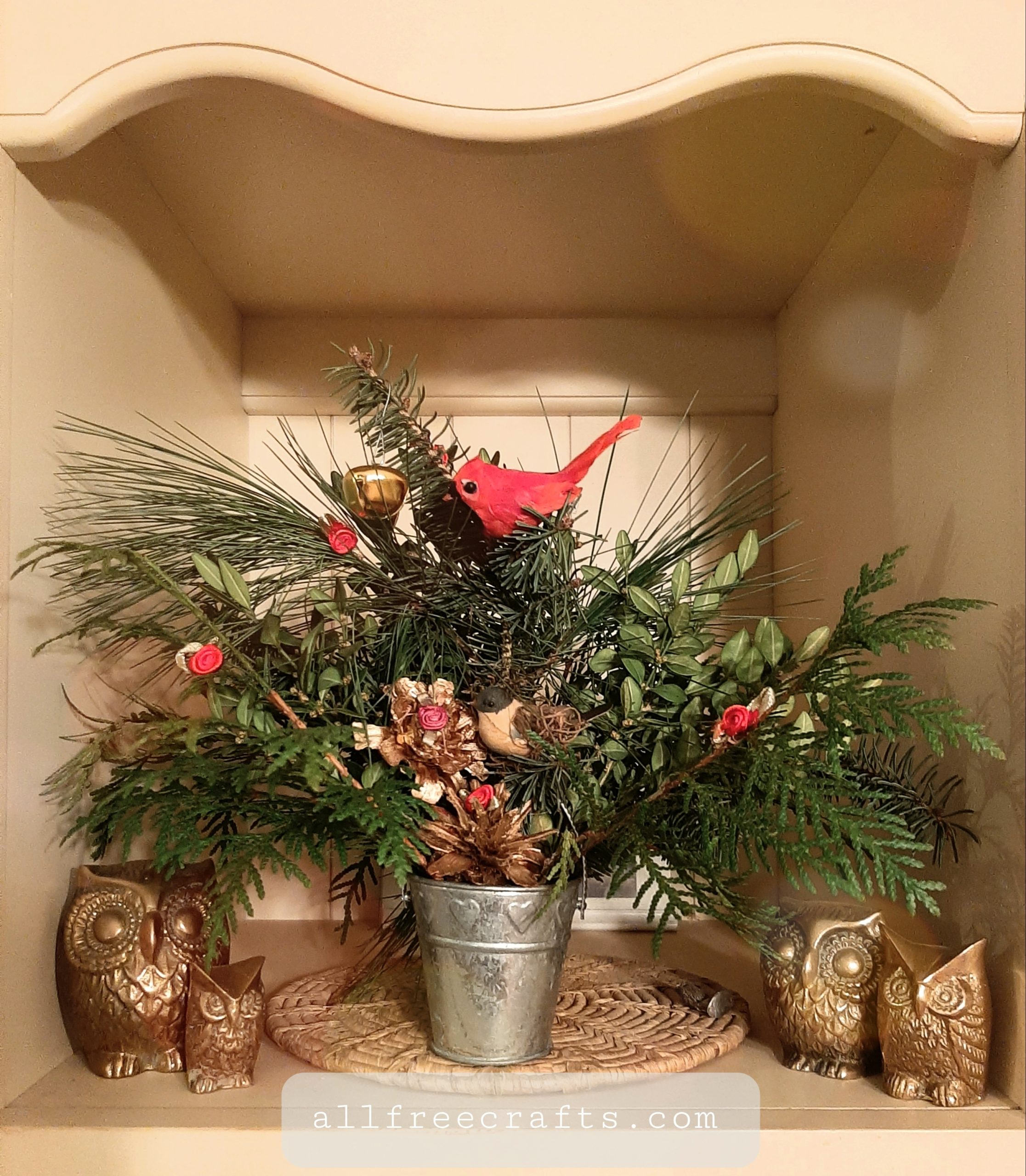 Supplies:
2-1/2 inch aluminum bucket or similar sized waterproof container
wet oasis floral foam
8 inch sprigs of pine, spruce, cedar and boxwood, about 12 to 15 pieces
2 pine cones (mine were sprayed gold but natural or bleached pine cones look fine as well)
about 10 ribbon roses
thin craft wire
2 artificial birds
1 gold bell
water
You will also need a ruler, scissors or a pruner, and a knife to cut the foam.
How to:
I live in the countryside, happily surrounded by trees, but such small evergreen sprigs are needed for this miniature display that even a city gardener may find them in the garden. If you don't have the full assortment, no worries, just pick extra sprigs of whatever evergreens you do have or cheat a bit and add a few faux evergreens to the arrangement.
Gather all your supplies and use a knife to cut the floral foam to fit inside your container. The top of the foam should be about a quarter of an inch below the container's rim. Place the foam in the container, add water and let it soak in, adding more water as needed to thoroughly saturate the foam.
Start with an eight inch piece of pine, inserting about two inches of the stem in the center back area.
Begin adding more greenery. I added a multi-tipped spruce sprig in the middle of my bucket, with two smaller spruce twigs on either side.
Continue adding evergreens, evenly spacing each addition and turning your container as you work so your mini Christmas evergreen display looks balanced from all directions. I found boxwood excellent for filling spaces while cedar makes a feathered, textured edging.
Adding Decorations
Leave room for your decorations! My pine cones were cut flat and spray-painted gold like flowers but smaller, natural pine cones work equally well.
Here's where you can get creative and try out different themes. I originally added a homemade bead angel to the top of the "tree" but it didn't go with my woodland birds theme. I also skipped the fake white flowers because they looked unseasonal. However, a single gold bell near the top added a nice whimsical note.
If you're using ribbon roses, which shine like little jewels among the branches, just twist a little "u" shaped piece of thin craft wire around the neck of the rose then gently bend the wire to attach each ribbon rose where you want it.
Pretty little artificial birds are available in most craft stores. Here is a pack of 10 small clip-on cardinals from Amazon (affiliate link). I chose a red cardinal in memory of my mom but pick your theme to suit your decor or the special recipient of your gift.
For another, even easier mini Christmas evergreen display, suitable for kids to make, try this Candy Cane Evergreen Display made from a tin can, candy canes, tree trimmings and a rubber band.